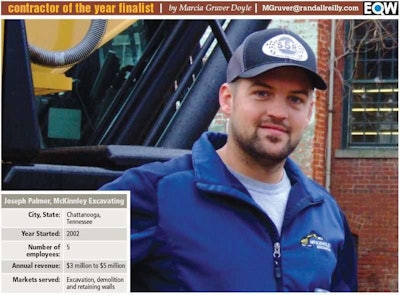 Joe Palmer wasn't exactly your typical teen. Midway through his senior year in high school, Palmer took his savings from the many jobs he'd been working and bought a new set of wheels: a dump truck.
With that truck and some compact equipment, Palmer started his company, doing hauling and light demolition. By the grand age of 19, he landed a few demolition jobs that he now describes as "kind of funky."
"These were interior gutting jobs," he says, "and they were right up my alley. My machines were small enough to get in those places. At the time, they were too small for my competition."
After a stint in the Army, Palmer went back to working, using the compact equipment with which he was familiar, and establishing McKinnley Excavating, using his middle name for the company moniker.
He now does a variety of excavation, demolition and retaining-wall projects, including a number of residential and commercial demolition jobs in nearby Gatlinburg after the area's devastating fires late last year. This year, McKinnley Excavating landed a National Park Service job to rehabilitate a historic building.
Palmer attributes the growth throughout his 15 years of being in business to precision excavation, which he's been able to do because of machine technology.
"What I've enjoyed more than anything is getting GPS on the equipment in the past year or so and watching our clients benefit from that," Palmer says. "We started with a Trimble 2D unit on our D6 and then with a 2D system on a Cat 314 for pipe work. It's been nothing but success. It definitely speeds up the process." At times, he's been able to use the technology to complete site-prep jobs of more than one acre in half the time he originally estimated.
While there was definitely a learning curve to adopting the GPS technology, Palmer has nothing but praise for the support from his Sitech representative. "Every Sitech GPS case, whether it's the rover or the base station, has their card clear taped on the inside," he says. "And those guys answer the phone, or text us within 30 minutes."
"We've had to lean on technology, which can be expensive," Palmer adds. The expense, however, can be justified by the increase in efficiency. This in turn helps keep prices in line. "You become a cheaper, better-quality provider," he says.
Still, the basic machine knowledge has to be there first, Palmer maintains. "If you hire a young guy and put him on a D6 with an auto grader and that's what you teach him, that's not enough. You've got to put someone on a straight dozer and let them muck out a pond or cut in a road, then you can start letting them advance to using GPS. We have to have people who are diverse."
Palmer has already experienced the benefits of telematics. On a recent jobsite, his Cat 314 excavator wouldn't crank. Stowers Machinery logged into the machine, found a shutdown error code and instructed them to reset the battery kill switch. "My operator kills the battery, gets back in and the machine cranks," Palmer says. "Five minutes later, he's back on the job. Two years ago, that would have been a 24-hour downtime."
And now Palmer regularly uses a drone to shoot video and photos of his jobsites as a means of maintaining a visual record for himself and his clients. It's also a great way to give his crew an overall site view of progress made.
Uniform fleet
One thing Palmer says he learned in the military is the importance of uniformity. "It builds a team and an image and helps you identify strengths and weaknesses," he says.
Which is why Palmer says it's important to keep a uniform fleet. In his case, that means Caterpillar equipment and Kenworth trucks. "We have three dump trucks that look identical; they were bought together," he says. "People sometimes see two of the three on the road, but they think they've seen 12. That builds an image for your company that you're growing."
Palmer also considers a uniform fleet important to employee morale. "If I tried to mix my fleet, I couldn't imagine the impact on my employees and the changes to my maintenance costs," he says.
Palmer says if his company needs to rent a machine, he'll buy it instead. "If a job's producing profit, then I have to invest the profit. When you buy strong equipment, you should always be able to sell it. And if you're renting, it's hard to get the support back out of your dealer and your equipment because they just don't have the money there."
There's a definite pattern to his equipment buying cycle, Palmer says. "I'm Googling or YouTubing a piece of equipment at first," he says. A few days later, he calls the dealer and schedules a demo. If he's satisfied, the machine will typically go on a rental purchase option. "Then it's in the fleet," he says.
Major pieces in the McKinnley Excavating fleet include smaller dozers, compact track loaders, excavators and compact excavators. The majority of it is Tier 4 compliant. Even though most clients in Tennessee don't have specific Tier 4 fleet requirements, Palmer believes his Tier 4 fleet – and the fact he runs his fleet on biofuel – gives him an edge. It's a factor he believes helped him get work at the local Volkswagen plant.
On salary
The McKinnley Excavating office is managed by Sarah Simpson, Palmer's fiancé.
"Our goal is to be that company that still has that personal relationship with its clients and goes above and beyond the scope of work to make sure it's done properly," Simpson says.
Palmer takes an unusual approach with his team, paying each member a salary instead of an hourly wage. "I've found that putting them on salary helps me lower my turnover," he says. "People know that they may be offered $1 more next door, but they're not going to get it for 50 hours a week. I pay them rain or shine. My mechanic, my office staff, everyone is on salary."
"Giving them a place to go has been my biggest thing," Palmer continues. "If I can move the guys I have up, I can fill the gaps below them instead of hiring people over their heads."
Palmer says the Great Recession was a blessing. Still small at the time, it was easier to ride the downward spiral. "A lot of larger companies were performing in an environment where there was a lot of work and profit, and when the recession hit, they couldn't keep traction. Because we were growing and watching every single dollar, that helped us put a high level of service in front of the client." It didn't hurt either that while larger companies were putting more hours on their equipment, Palmer was able to buy some new machines. "Our equipment was never down," he says, "and that helped keep our quality in place. Once you start that circle, it definitely feeds itself."
Steady growth
"We've grown a lot this past year, but it's steady growth," Palmer says. "I don't believe in booming because your needs are always ahead of your cash." Still, it's hard to turn down work, especially with an existing client, so there's always a balance.
Palmer's focus on customer service is guided by his philosophy of managing expectations. "I teach that to my employees so there's buy-in to the process throughout the company," he says.
Says client David Bushman of Lennar Homes: "Palmer's a young guy and I'm an old bird, and I learn from him all the time. I regularly tell him how much I learn from him, especially when I see him managing his people and his company."
Adds Candace Esparza with Durango Enterprises: "I would happily go to work for him. He gives his employees the opportunity to succeed and rewards them."