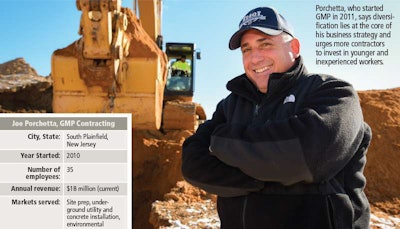 Building something from nothing is in Joe Porchetta's blood.
The son of an Italian immigrant who watched his father and grandfather build a life in a new country by starting a curb and sidewalk company, Porchetta got his first experience in construction at around 9 or 10 years old.
Though his father passed away when he was young, working for his uncle kept Porchetta connected to the business. Starting in high school as a laborer, he would continue working for his uncle during any free time he had while attending college, running equipment and even managing projects.
But the summer before his final year of college, Porchetta had an experience that prompted him – understandably – to get out of the business: he was buried up to his neck in a trench collapse. So he earned an accounting degree from Del Ray Valley College in Pennsylvania and then commuted to New York City, where he worked as a trader on the stock market.
But after three years of working on Wall Street, Porchetta grew restless. "I love building things. I love working with my guys," he says. So, he returned to New Jersey to work for his brother. And after 14 years handling estimating, project management and the business development end of that company, Porchetta decided he was ready to start his own business. In 2010, he established GMP Contracting.
Since then, the company has grown to 35 employees and in 2015, made an estimated $18 million in revenue performing site prep, underground utility and concrete installation.
Setting out
Though he had more than a decade of experience running the business end of a company that generated $60 million each year, Porchetta says he was nervous setting out on his own.
He's the type of a person who loves planning ahead. By noon each day, he and his staff have the entirety of the next day planned. And it's hard to be that organized when you're just getting things going. But he says the experience taught him the importance of not just having a plan, but having a flexible plan.
"It was grim at first," Porchetta says. "On the first job I actually had to take the last $10,000 to my name and use it as a deposit on a Cat 345 so I could dig a large commercial foundation. But it worked out, it generated about $25,000 and allowed me to prove myself with Foley Cat and they began to start letting me rent equipment without the deposit."
Porchetta kept at it, leaning on relationships forged during his time at his brother's company and working through the winter of 2010-2011 to pay his laborers and his bills. "I happened to be dealing with people who knew me and knew I could do the job," Porchetta says. "But when I was first getting on my feet, I had a lot of other friends that are contractors that helped me, even lending me pieces of their equipment. I did a lot of snow removal with a rental rubber tire backhoe and kept myself going while I negotiated some other projects that came together in February. One of those was an $800,000 project that really got things rolling."
Three more large jobs would follow in the coming months and by the end of 2011, GMP was bringing in enough money to start building a fleet of purchased equipment.
Porchetta says rental has always been a large part of his fleet strategy.
"My biggest thing is making sure everybody is paid before I take anything for myself. When you're renting you're not making as much, but your exit strategy is there because if something happens you can send it back," he explains. "You're not stuck with it and hurting your credit even more. It helped me establish my business with Cat Finance and Wells Fargo. Now they're looking for me to rent and to give me money because I've established my payment history."
Another key to Porchetta's business strategy since those early days has been diversification.
"To stay with the times you have to diversify and in fact my goal this year was to get more into the public sector jobs," he says. Porchetta is growing it more due to a lack of profitability on those jobs.
"I'm just trying to keep the public sector open because if it gets bad, there's always work in the public sector that will help you survive," he says, explaining that while he isn't interested in taking on a higher number of jobs, he wants the company to stay nimble, capable of doing jobs of all sizes and levels of complexity.
"I try to go after some of the harder jobs on the commercial end because it eliminates some of the competition. I'll do jobs that are $100,000 and everything up to $35 million. To this day I'll still go do a $10,000 job," he says. "I don't try to put all my eggs in one basket. I want customers in every [market] so if one of my guys is not working at least someone else is working.
"This is a lesson learned in the past," he continues. "If you make the ship in one sector, you can't turn it fast enough when things get tough."
Porchetta says he wants to grow the company at a reasonable rate, slower, in fact, than it has grown in the past five years. "I can't double the size of the company again," he says. "It will kill the company because we don't have enough resources for that. I want to make a solid foundation and then be able to do other endeavors."
The latest example of Porchetta's diversification strategy is his new environmental division with and an eye on getting into real estate.
Communication
If diversification and adaptability are at the foundation of Porchetta's business strategy, constant communication is how he carries those facets out on a day-to-day basis.
In addition to the day-in-advance planning sessions, Porchetta makes himself available to clients, vendors and employees 24 hours a day.
"My phone never gets shut off. I tell my customers if something happens, call me any time," he says. "My wife doesn't like it very much, but if you're not communicating with the people you're having problems with, you don't solve the problems. There are always problems, but there's always a solution."
Client John Porcek of Bridge Development Partners calls Porchetta "exceptional. He's a very conscientious person and always looks to make sure the project is being done in an efficient [manner]. He's always good in offering suggestions in how things can be done, or cost savings…and in his billing and invoicing he's always been fair."
Client Ron Witt Jr. of Sweetwater Construction adds Joe is "conscientious on my sites. There's always a willingness to work together. [He's] not just looking out for himself."
Porchetta says it's vital to keep these lines of communication open in order to build what may be the most important part of his company: relationships.
"My philosophy is I'm not here to do one job and be done. I'm here to establish long-term relationships with good people, good customers," he says. "I've set my company up so that I don't have to take a job just to take a job."
But Porchetta doesn't limit communication to those around him. He reaches beyond his circle in order to learn from his competitors.
"I watch other people. I ask other people for advice," Joe says. "Good guys in my business that are the same as me, they're not afraid to share what they know. Those are the guys I want to compete against because they're at my same level."
Managing people and machines
As far as the advice Porchetta offers to others, much of it centers around managing people and machines.
On the machine side, Porchetta highly recommends other companies integrate rental into their fleet strategy. He currently owns 90 percent of his fleet while renting the remaining 10, though he says this split fluctuates throughout the year.
"We're thinking about going into paving and we're renting all the equipment for one season just to see if we can make it," he says. "If it doesn't work out? It all goes back. And it's still a win if you go forward since the money goes toward the equity of the machine."
Porchetta, who says, "I'm only as good as my men," makes it a point to acknowledge good work, from something simple as telling his guys they did a good job that day or giving a yearly bonus after particularly good years.
Like thousands of contractors across the country, Porchetta has had some difficulty finding skilled laborers. Unlike many of those contractors, he doesn't mind investing in younger and inexperienced workers.
"I feel I should have done the work I did this year with another 10 men," he says with a sigh. "But I'll take somebody that wants to work and is not that qualified over somebody that has the ability but has a chip on their shoulder. They bring down the morale of everybody in the company.
"I see the chip on the shoulders on the older guys. The new generation coming in they don't feel like they're entitled like some of the other generations."
Porchetta will spend as much as half of a work day in a trench teaching new employees how to install pipe. He says the key to rebuilding the industry's workforce lies in more contractors being willing to spend time with younger workers and guide them along the way.
"I hired a 20-year-old kid last winter. He was going to an equipment training ground and I told him to forget everything he learned there because I would teach him how to run equipment the right way," he says. "He learned and he's getting better. He's been with me a year now. He's one of those guys he's working in my shop washing trucks because he wants to work. He chooses to do that because he doesn't want to get laid off.
"You've got to be committed. Especially in this business. You lead by example."