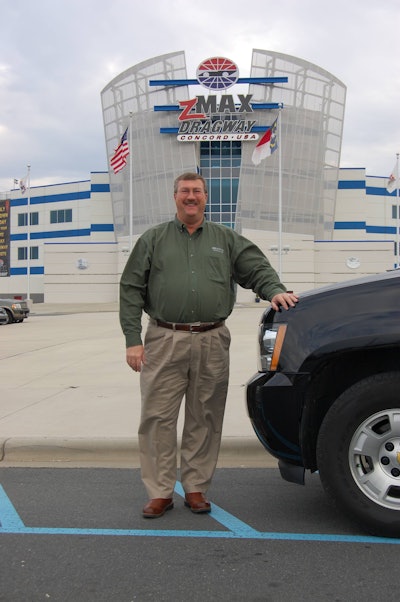 Equipment World magazine named Steve Cosper, CEO of Granite Contracting, Contractor of the Year Saturday night at the magazine's annual award ceremony.
Eleven other Contractor of the Year finalists were also presented awards in the event held at Caesar's Palace in Las Vegas. Each of the finalists and the winner along with a guest and their Caterpillar salesperson were flown to Vegas, all expenses paid, for a weekend of events including industry roundtables, the awards banquet and a trip to the NASCAR race Sunday.
The editors of Equipment World awarded Cosper the top honor for his meticulous attention to the equipment and financial management of his paving and sitework company, his cutting edge use of GPS and telematics technology and his innovative personnel management philosophy.
Cosper started his career in construction working summers between college semesters. His first job was dusting off the bluetops so grader operators could see their stakes. After graduating from the University of Alabama with a civil engineering degree Steve went to work for APAC. He climbed that corporate ladder for 15 years eventually becoming vice president of operations.
In 1999 he launched his own company, Granite Contracting with help from an investment partner and venture capitalist and today Granite Contracting is a turnkey site development company that self performs demolition, mass and light grading, water and sanitary sewer, storm drain, concrete, curb and gutter, stone base and asphalt paving. The company's nearly 70 employees manage two asphalt plants and more than 100 pieces of equipment.
In 2008 and 2008 when the U.S. economy sank into recession and job prospects were cut by more than half, Cosper's ideas and practices were put to the test. A lot of competitors he liked and admired didn't survive, but Granite Contracting did, for three reasons — systems, people and satisfied customers.
"We know our costs as well as anybody," Cosper says, "to the third decimal point. Every penny of value is calculated."
Satisfied customers are also crucial for a company to succeed and here Granite has no shortage. "I would want Steve Cosper to take care of my family if anything happened to me," says Henry Batten, president of Concrete Supply in Charlotte. "He has more integrity in his pinky than most people have in their whole body. I use him because I know he'll do it right. I can sleep at night and not have to ask him the price. Sometimes you walk away thinking, 'Did I pay him enough?'"
In late 2007 Granite Contracting won the bid to pave the asphalt racing lanes and the parking lots at the zMax Dragway adjacent to the Charlotte Motor Speedway. Despite a shortened construction schedule, numerous in-progress changes, and specs on the racing strip that were tighter than airport runway specs, Granite finished the job in time for the NHRA Nationals nine months later.
"In addition to the magnitude of work that had to be completed in a short period of time, their attention to detail was impeccable," says Jeff Black, of Speedway Motorsports. "Track smoothness is critical to drag racing and Granite exceeded our stringent specifications. Both drivers and crew chiefs have said that the zMax Dragway is the smoothest track on the circuit."
Cosper and his company will be featured in the May issue of Equipment World magazine, and the 11 other finalists will be profiled in subsequent months.