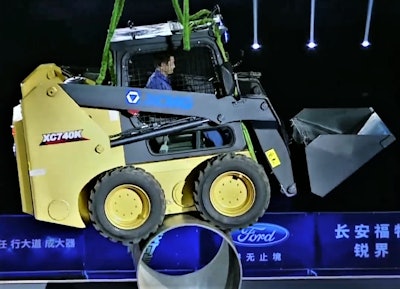 Anyone who's ever hopped inside a skid steer knows what nimble machines they can be. And chances are you've seen at least one or two videos floating around the internet of these compact loaders performing tricks on two wheels. The operator in the video below has decided to put both his skill and the skid steer's nimble qualities to the test by attempting to log roll a pipe to cross a 72-foot spanse on parallel beams.
The stunt comes from China's state-sponsored television outlet CCTV and leans a bit heavily into the dramatics, as you might expect. There's little reason to fear for the operator, however as he and the loader are suspended by heavy duty support cables from above. The cables are put to the test by the way. The operator's first attempt fails and as the pipe falls to the floor below, the cables hold strong, leaving the loader dangling gently in the air.
The operator's next attempt is a success. So what do you think? Impressive? Easy? Let us know in the comments.
Heavy machinery becomes agile acrobat: Man drives a loader over 22-meter parallel bars while balancing on top of a rotating cylinder. #CCTV #ImpossibleChallenge

Posted by CCTV on Tuesday, January 16, 2018