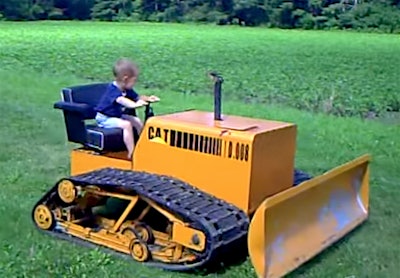 If your kid loves heavy equipment and can't wait to get his or her hands on the controls, you could always buy the very cool Cat dozer from Kid Trax. Or, you could go straight into Father-of-the-Year mode, building a Cat D8 replica perfect for a toddler operator.
According to the YouTube description from uploader Heather Rausch, two-year-old Braydin's dad built this tiny D8 using lawn mower and snowmobile parts. And as you can see, the little guy takes right to the controls, maneuvering this diminutive dozer like it's no big deal at all.
If you're a regular reader of this site, you may be having a bit of déjà vu as we featured a mini dozer quite like this one about a year ago. That one was modeled after the Caterpillar Model Twenty Two and is definitely worth a look if you haven't seen it yet, since its builder documented the entire process of building it.