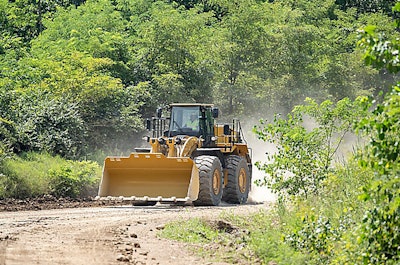 Caterpillar
Cat's new 988 GC is a lower-cost, lower-powered version of the company's 12-ton-payload class of wheel loaders but with the same loading capacity.
Compared with the 988K XE released earlier this year and the 988K, the GC version gets a smaller engine for saving fuel and reducing costs. Owning and operating costs drop as much as 10% and carbon-dioxide emissions are reduced 5% compared to the previous 988K, Cat says.
It's designed to deliver the lowest cost per hour of the 988 models, for customers who don't need the higher productivity levels and want to save on fuel, Cat says. (To see the 988 GC in action, check out Cat's video at the end of this story.)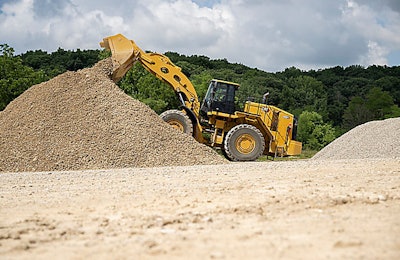 The GC is powered by a 373-net-horsepower Cat C15 engine, the same as on the 986K. Both the 988K and 988K XE, which is an electric-drive machine, run on Cat C18 engines with outputs of over 540 horsepower.
Like the other models, the GC comes equipped with Cat's Performance Bucket Series, with sizes ranging from 8.3 to 10 cubic yards. Standard is Cat's connected bucket technology in which the loader recognizes when the bucket is installed and can track hours of use to predict wear and prevent unplanned downtime. Cat Payload, which tracks bucket load weight and other performance data, can be installed as an option by the dealer.
The 988 GC is matched to a 50-ton-payload truck for loading. Along with the same engine, the GC's design is based on the 986K. But the front frame linkage and hydraulic system have been redesigned to accommodate higher payloads and a longer reach while keeping the 986K's wheelbase of 12.5 feet.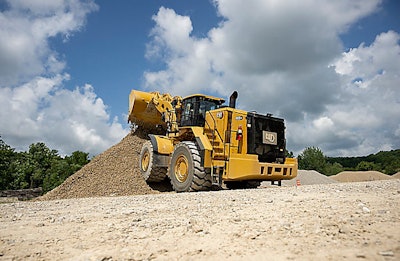 Standard features on the 988 GC include the same touchscreen display as on the 986K, quieter Steering and Integrated Control (STIC) steer, electro-hydraulics controls and an improved brake valve. The 988 GC also shares the same tires and rims as the 986K.
For maintenance, the 988 GC provides ground access to the master disconnect, the emergency engine shutdown, the jumpstart receptacle and the stairway light switch. The fuel and diesel exhaust fluid fills are located behind a dedicated service door.
Available options include rearview camera and rear-object detection.
Check out the 988 GC in action in this video:
Quick Specs
Engine: Cat C15, 373 net hp, Tier 4 Final/Stage V
Operating weight: 116,858 lbs.
Payload: 12.5 tons
Bucket capacity: 8.2-10 cu. yds.
B-pin height max lift: 19.7 ft.
Reach max lift: 7.7 ft.
Height: 13.5 ft.
Wheel base: 12.5 ft.
Max length: 39.5 ft.