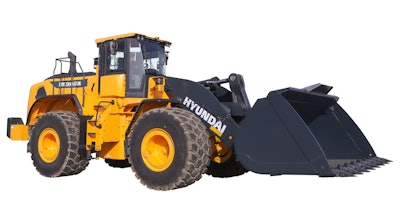 Hyundai
Hyundai Construction Equipment Americas has introduced its largest-capacity wheel loader, the HL985A.
The loader offers a standard bucket capacity of 9.1 cubic yards for use in high-production jobs such as quarrying, aggregates and other mass-volume material handling.
"We refer to the HL985A as a 'true two-pass' wheel loader because it can fill one of our HA30 articulated dump trucks with two bucket loads," said Joe Turnage, senior product manager, Hyundai Construction Equipment Americas.
The new wheel loader was unveiled at ConExpo 2023.
You can see more of what other OEMs had at ConExpo 2023 on our show page by clicking here.
"With the addition of the HL985A, the Hyundai wheel loader line includes models that fulfill the needs of every important wheel loader application," Turnage said. "At the same time, like every A Series wheel loader model, the new Hyundai HL985A provides the combination of power, performance, fuel efficiency and operator safety and comfort that successful contractors expect from Hyundai."
The HL985A is powered by a 430-horsepower Cummins X12 performance series engine and ZF 5 transmission to provide optimum power and torque. It comes standard with heavy-duty ZF axles with wet outboard brakes and with coolers.
"Our customers tell us they appreciate that our A Series wheel loaders do not use exhaust gas recirculation because it is not necessary to do periodic shutdowns," said Turnage.
The bucket on the HL985A comes standard with a three-piece bolt-on cutting edge and an auto-level feature to help prevent bucket spillage. A heavy counterweight helps enhance stability.
Advanced features
The Hyundai HL985A offers Smart Power Mode as a standard feature to reduce fuel by adjusting speed in heavy-duty applications. Fuel is conserved through the speed adjustment while traction and breakout forces are balanced to improve efficiency.
Operators can monitor the ongoing fuel consumption in real-time or review historical data with Hyundai's Eco Gauge function. Displayed values include engine torque, fuel efficiency and average and total fuel consumed. The menu further includes hourly and daily fuel consumption viewing options.
The HL985A loaders include Hyundai's Electro-Hydraulic control system, which the company says improves precision and ease of operation. The EH control level facilitates easy operation of attachments with integrated, third-spool proportional auxiliary control.
Within the cab, the loader includes a heated air-ride seat, cab heater and air conditioner; rearview camera; electronically adjustable, heated and foldable rearview mirrors; AM/FM radio with Bluetooth; and a 7-inch multifunction monitor and control panel.
The wheel loader is available with Hyundai's All-Around View Monitoring (AAVM) system. Enhanced with a 180-degree radar, the AAVM system includes four cameras and provides operators with a consolidated 360-degree view around the machine, and incorporates motion detection with audible alarms for improved jobsite safety.
For high-volume material-handling applications that require monitoring and reporting the weight of materials loaded or moved, Hyundai says, the HL985A also features the company's proprietary onboard weighing system, which is accurate within 1 percent and includes a cumulative weighing function to help create production reports.
Ease of service
Consolidated service drains and a diesel exhaust fluid tank spout are located on the right side of the loader. In addition, the hood opens and closes via electronic control.
Dual battery boxes and the swing-out cooling package are easily accessible, while the in-cab HVAC system filter is within easy reach for removal and replacement.