Hyundai Construction Americas has launched a new line of skid steer and compact track loaders for its North American return to the compact loader market.
According to Hyundai, it seemed logical to go ahead and add in some compact equipment that was a good pairing with its mini excavator line. With a large market in the 74-horsepower range, the company felt it was a good entry point.
Both the Hyundai HT100V compact track loader and the Hyundai HS120V skid steer loaders are now available at dealers around the country.
The HS120V skid steer loader has a rated operating capacity of 2,690 pounds, while the CTL cousin HT100V has a rated operating capacity of 2,300 pounds.
Both run on a 70-horsepower engine and come standard with a hydraulic quick-connect coupler, cab HVAC, and pure pilot control.
"With the addition of the HS skid steer and HT compact track loader, Hyundai's compact equipment lineup will serve even more customers in construction, landscaping, agriculture, and material handling," said Adam Ford, product manager, of Hyundai Construction Equipment Americas. "Combined with Hyundai compact excavators, these Hyundai machines provide a broader range of capabilities to contractors and other equipment users whose work requires powerful, dependable, and affordable compact equipment."
He said the HS and HT series machines are engineered to meet the most exacting demands for performance, durability, and operator comfort while satisfying the strictest environmental requirements.
Both models are powered by a Tier 4 Final Hyundai HTI4 turbocharged, electronically controlled diesel engine. It delivers 70 net horsepower at 2,200 rpm to provide power for a variety of attachments.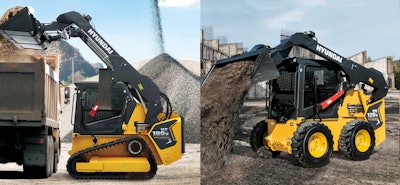 Fully functional
Built on the same platform, the new models provide a combination of features that translates to increased productivity and performance, according to Hyundai.
Key standard features include a multi-function joystick enabling operators to control all machine functions with only their hands. The company says this helps reduce operator fatigue.
"Operators will also enjoy ride control, which comes standard on HS120V skid steers," Ford said. "Owners will also appreciate the extra load retention and productivity they get from ride control."
He noted that ride control will be available for the HT100V CTL this fall.
Additional features include an optional high-flow hydraulic system, which provides extra capacity to run attachments. Both models are designed with a vertical lift path that allows the boom to raise the bucket straight up to full height for better stability, less spillage, and greater lift height. A vertical lift path design is particularly helpful when using forks or other attachments that are more productive when kept level.
An auto-self-leveling system keeps the bucket or fork level without the need to manually adjust the angle on the way up during lifting. The feature can be engaged with the flip of a switch. Hyundai says the bucket and boom geometry remains highly productive for digging applications as well.
The machines also have a two-speed travel system enabling quick movement around jobsites.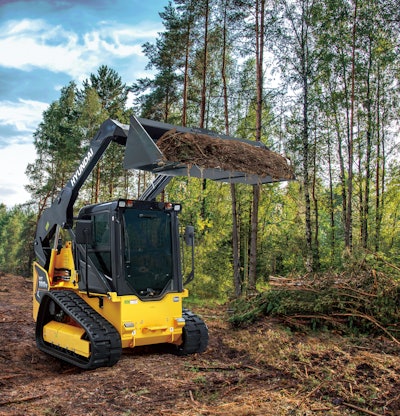 Lots of space
Operator comfort starts with the spaciousness of the cabin. The HVAC system is fully adjustable, and to optimize airflow, there are five vents.
Hyundai says visibility is increased with an extra-wide view. In addition, nighttime visibility is improved with LED driving and working lights as a standard feature on the front and rear. An optional lighting package that includes rear working lights is available. A courtesy light keeps the LED lights illuminated for 30 seconds after the shutdown of the machine so the operator can see the surroundings when exiting the cab.
Hyundai says the sliding door to the cab can be easily opened and closed. The machine will operate no matter what position the door is in.
Traveling and working devices can only be operated with all seat bars lowered to prevent accidents in unintended situations, such as accidentally touching the joysticks.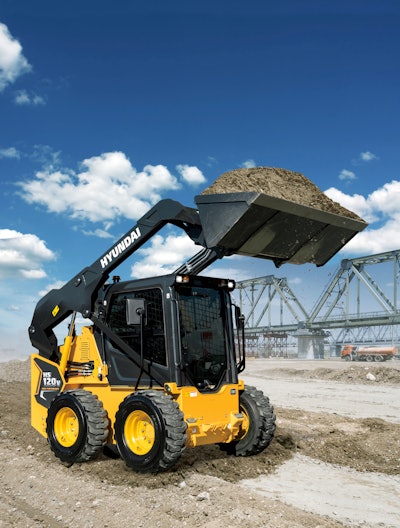 Safety and service
Standard safety features of the Hyundai HS and HT series loaders include rearview cameras. The camera screen is displayed on the cluster and automatically changes to the camera screen when the machine is moving backward.
An emergency boom-down feature enables manual descent of the boom in the unlikely event of an electrical failure.
Hyundai says access to key components for daily checks and service is made possible with an easy-opening rear door. The radiator module also swings out, providing full access to the engine compartment, hydraulic filter, and other key components.
Due to the engine size, no DEF fluid is required. For further service access, the cabin tilts up without the requirement of lifting the loader arms.
Hyundai's Hi Mat telematics system is optional for remote management, machine evaluation, and geofencing.
Quick Specs
Hyundai HS120V
Engine: Hyundai HTI4
Power: 70 hp/2,200 rpm
Operating weight: 8,481 lbs.
Rated Operating Capacity: 2,690 lbs.
Bucket breakout force: 6,327 lbf.
Hyundai HT100V
Engine: Hyundai HTI4
Power: 70 hp/2,200 rpm
Operating weight: 9,755 lbs.
Rated Operating Capacity: 2,300 lbs.
Bucket breakout force: 4,766 lbf.