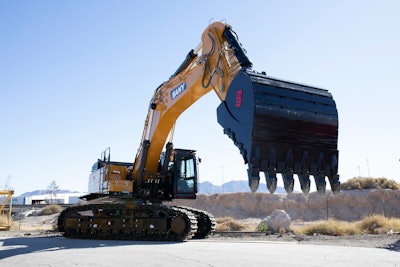 Sany
Sany has broken into a new class size in the U.S. with its 86.5-ton SY750H excavator.
Now the company's largest excavator for the U.S. market, it gets the nickname "The Ox."
The excavator was launched at ConExpo in March and like the three smaller excavators also unveiled at the trade show, the SY750 has commonality in controls and cab features to make it easier for operators changing among the company's machines.
The new excavator puts Sany in the heavy construction to light mining category. It comes with a 6.5-cubic-yard bucket and a retractable undercarriage.
To increase swing time, Sany added dual swing drives. As with its other excavators, Sany kept to its motto of "Fully loaded is the new standard" by making all auxiliary hydraulic plumbing standard and installed at the factory. The auxiliary flow and pressure can be configured through the 10.4-inch touchscreen display, where the operator can also switch between one-way and two-way hydraulic flow on the primary auxiliary circuit. Quick coupler plumbing comes standard to the end of the stick.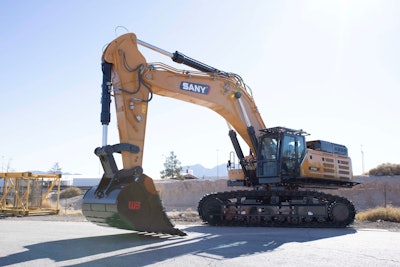 The SY750H is designed for mass excavation with a stick that's nearly 10 feet long and digging force close to 80,000 pounds. It can dig down to 25 feet deep. Bucket breakout force is 92,171 pound-feet.
In the cab, operators get a heated, adjustable air-ride suspension seat with adjustable armrests and seat-mounted joysticks. The excavator also features push-button start, blind-side and rearview cameras, travel alarms, HVAC and LED work-light package.
It runs on a 524-horsepower Cummins X15 engine. A reversible cooling fan for the hydraulic system is also standard.
Sany made the compartment doors wide for service access and put maintenance points at ground level. The excavators come installation ready for Leica Geosystems machine control.
The excavator comes with a five-year, 5,000-hour standard warranty.
Quick specs
Operating weight: 173,062 lbs.
Engine: 524 hp Cummins X15
Dig depth: 25 ft.
Bucket breakout: 92,171 lb.-ft.
Digging force: 79,582 lbs.