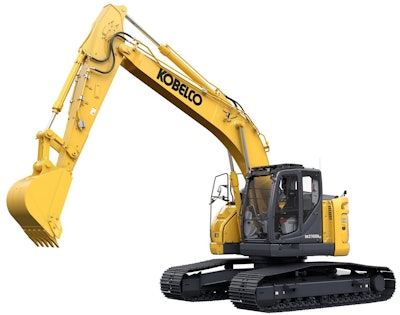 Kobelco
Kobelco Construction Machinery USA has released two new short radius excavators – the SK230SRLC-7 and SK270SRLC-7 – for when you need traditional excavator power in tight spaces.
The 21-foot 7-inch dig-depth SK230 has a digging force of 29,700 pounds and a maximum digging reach of 31 feet 10 inches. The larger Sk270 offers a 35,300-pound digging force, a 32-foot 4-inch digging reach and a 21-foot 10-inch dig depth.
The excavators run on a 164-horsepower Tier 4 Final Yanmar engine that balances engine output and torque for efficient performance, Kobelco says. Both machines are among the first to be equipped with Kobelco's reconfigured iNDr cooling system with two offset ducts on top that allow them to maintain quiet, cool operation with reduced dust intake, fuel consumption and exhaust emissions.
An intelligent control system on the SK230 and SK270 ensures smooth engagement and disengagement of machine functions, the company says. The power boost function instantly delivers up to 10 percent additional power with no time limit for extra digging capability, while the heavy lift feature can be engaged when extra lift capacity is needed. Independent travel allows the machines to move, lift and swing simultaneously without losing power.
The cab features an all-new interior design with an optimized control layout and jog dial, wide access doors, a multi-vent air conditioner, ergonomic lever angles, adjustable height joysticks, LED interior lighting, a tilting left side console, 270-degree camera system, a 10-inch monitor and a seven-way heated adjustable suspension seat.
The flow-rate modes for the bucket, breaker, nibbler and thumb are all adjustable presets, allowing operators to change tools quickly and easily. Mode settings for other attachments like tiltrotators can be added or modified.
All day-to-day maintenance points are easily accessible, and an overhead cab guard comes standard for added safety.
Quick Specs
SK230SRLC-7
Engine: Yanmar 4TN107FTT
Engine Power: 164 hp
Operating Weight: 57,100 lbs
Travel Speed: 3.6 mph / 2.2 mph
Drawbar Pulling Force: 50,800 lbf
Bucket Digging Force: 29,700 lbf
Arm Crowding Force: 21,800 lbf
Lifting Capacity: 17,270 lb
SK270SRLC
Engine: Yanmar 4TN107FTT
Engine Power: 164 hp
Operating Weight: 61,100 lbs
Travel Speed: 3.2/2.0 mph
Drawbar Pulling Force: 54,400 lbf
Bucket Digging Force: 35,300 lbf
Arm Crowing Force: 25,200 lbf
Lifting Capacity: 17,700 lb