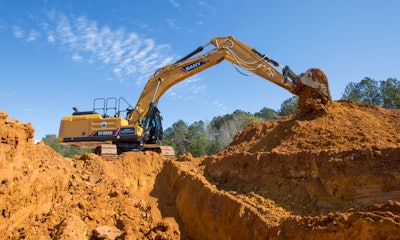 Sany
Sany launched three new excavators, including its largest model ever, at ConExpo.
The three new models in the medium to large size classes each got nicknames from the company:
The 37-ton SY335C LC is dubbed the "Comeback Kid." It has been in the Sany lineup in the past, but its engine had not been upgraded beyond the Tier 3 emissions standards required in the U.S. before now. The new excavator gets a 280-horsepower Tier 4 Final/European Stage V Cummins diesel, along with all of the other new features Sany is introducing across its excavator lineup.
The 41-ton SY385C is dubbed the "Big Brother" to the SY335 LC, delivering increased productivity with a 314-horsepower Cummins engine. It will replace the SY365 LC.
And finally, Sany's largest excavator to date is the SY750H, which the company calls "The Ox." The new 86.5-ton excavator puts Sany in a new size class, enabling it to reach customers on small mining and large construction projects.
Loaded with standard features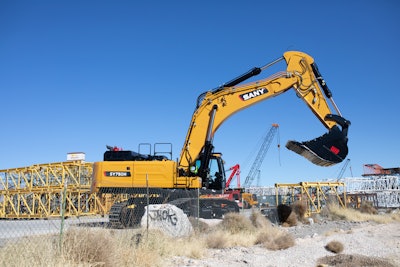 Sany has adopted the motto, 'Fully loaded is the new standard."
The company carried through on the slogan for the new excavators, with the aim of achieving commonality in features across the lineup.
Such standard new features include a 10.4-inch touchscreen monitor inside a larger, redesigned climate-controlled cab. A new heated air-suspension seat, primary and secondary auxiliary hydraulic lines, and quick coupler plumbed to the end of the stick are other standard fare.
"There's a lot of commonality between everything," says Jordan Van Wie, product specialist excavators. "So what that's going to mean for operators is being able to get in it and understand it quickly. There's not too much in the cab that's going to overwhelm them."
Other standard features include blind-side and rearview cameras, push-to-start ignition, and adjustable one-way or two-way auxiliary hydraulic flow and pressure control through the touchscreen monitor. All daily maintenance checkpoints are at ground level.
The SY750H also features standard retractable tracks, a seat with adjustable independent control positions and an LED work light package.
Gaining ground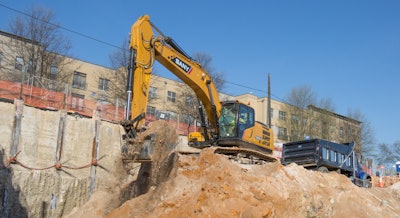 The Chinese manufacturer reports it has not experienced the supply-chain challenges of larger, more popular brands, especially during the early years of the pandemic, and that has helped it increase its U.S. brand presence.
"Sany has done a really good job of navigating these challenges," says Devraj Patkar, Sany director of engineering. "We were one of the few OEMs who had machines available for sale during this timeframe and were able to gain market share because of that."
As that name recognition grows, Patkar says, more contractors will be willing to try Sany excavators. "They see that, 'Hey, we're getting the same performance out of this machine with a lower cost associated with it,' and the close support that our dealers are able to provide."
Quick specs
SY335C LC
Net power: 280 hp
Dig depth: 22' 4"
Operating weight: 74,075 lbs.
Bucket breakout force: 45,861 lb.-ft.
SY385C
Net power: 314 hp
Dig depth: 24'
Operating weight: 82,232 lbs.
Bucket breakout force: 52,875 lb.-ft.
SY750H
Net power: 524 hp
Dig depth: 26'
Operating weight: 173,062 lbs.
Bucket breakout force: 92,171 lb.-ft.