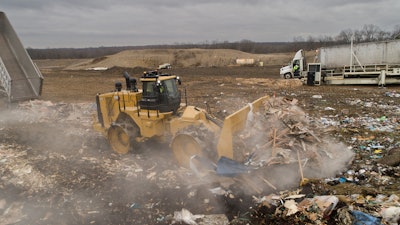 Caterpillar
Airspace management – or compaction – is the key to maximizing the lifespan of a landfill. With that, Cat has announced upgrades for its largest landfill compactor. The new 836 features a redesigned transmission and axles for improved durability and new standard technologies to deliver tighter densities in fewer passes.
A Tier 3 or Tier 4 Final configuration option for the 496-net-horsepower Cat C18 engine is available to meet varying emissions regulations. The Tier 3 equipped model weighs 123,321 pounds, while the Tier 4 Final model is 124,063 pounds.
The Cat torque converter with a lock-up clutch reduces torque converter losses while lowering system heat and transferring more power to the ground for better traction. Its advanced productivity electronic control system (APECS) transmission control helps the compactor to achieve greater momentum on grades and delivers fuel savings by carrying momentum through shift points.
Improved radiator air inlet door sealing and a carry-over pressure hood enclosure reduce the need for engine compartment cleanout. Data captured by the machine alerts maintenance technicians when the air filter is reaching the end of its useful life.
Compaction Measurement Technologies
Cat Compact with Pass Mapping comes standard on the 836. It includes a global navigation satellite system (GNSS) receiver on top of the machine and a 10-inch mapping display inside the cab. Cat says the technology delivers high-accuracy pass counting, allowing operators to monitor areas of coverage and the number of passes to achieve quick, uniform compaction.
Optional Compact Elevation Mapping further improves densities by combining pass counting and elevation monitoring of slopes to plan and control layer thicknesses.
Standard Cat Link technology gives fleet managers access to machine location, hours, fuel consumption, idle time, events and diagnostic codes. Operators can also view machine operating conditions data through a 3G touchscreen with a user-friendly interface. This data allows operators and technicians to resolve machine issues before failure.
More Durable, Easier Maintenance
For enhanced durability, direction shift speed and traction, the new 836 features larger diameter shafts, Cat locker differentials, an improved duo cone labyrinth, and a thicker wheel at the spindle. An improved final drive gear set reduces stress and enhances pitting life. A new fan motor guard helps prevent bag wrapping, while a new, 5-inch higher efficiency fuel filter delivers cleaner fuel to the engine.
Most major components can be accessed from ground level or on the machine's platform. Sight gauges for coolant, transmission and hydraulic oil provide a quick visual inspection and minimize fluid contamination. Additional guarding around the axles mitigates risks of damage to components.
Efficient performance
The 836's upgraded cab includes better forward visibility to the blade and wheels via the lowered glass design. The cab is pressurized, climate-controlled and provides low, 72 dBA interior sound levels. Steering, gear selection and other functions are integrated into a single lever, the Cat STIC, for maximum responsiveness and control. A rearview camera comes standard.
The purpose-built landfill compactor offers five wheel and tip configurations. The lighter paddle tip design delivers high performance and traction with less fuel burn, while the plus tip traditional design increases stability on side slopes. The combination tip wheel combines the paddle and plus tip designs to balance performance and fuel economy with side slope stability. Cat says its exclusive diamond tip wheel delivers the longest tip life on the market, and the chopper tip design excels at compacting wet/soft waste material.
The new Cat 836 Landfill Compactor debuted at Waste Expo and has scheduled availability in August 2023.
Quick Specs:
Engine: Cat C18
Net Horsepower: 496
Gross Horsepower: 562
Max Speed: 7.8/8.2 mph