Develon
Doosan produced its first line of compact excavators for the U.S. in 2022 to replace Bobcat-built machines, and now as Develon, the company is continuing its growth in the segment with the introduction of its DX42-7.
The latest compact excavator weighs in at 4 metric tons and runs on a 47-horsepower Develon engine. It marks the sixth model in Develon's dash-7 mini excavator line, which began rolling out after Doosan Infracore and Doosan Bobcat ended their excavator agreement.
Develon touts the new DX42-7 excavator as being able to maneuver tight, congested jobsites for general construction, site prep, utility work and landscaping. It has a conventional tail swing and is 5 feet 9 inches wide.
It can be used as a material handler, picking up and placing such things as pipes and boulders. As a traditional digging machine, it boasts a bucket digging force of 6,481 pound-feet. It can dig down to 11 feet 5 inches and out to 18 feet 3 inches. The standard bucket size is 0.18 cubic yards.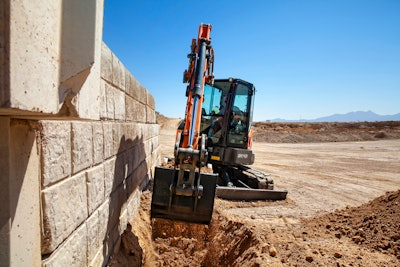 Standard features include thumb mounts integrated into the arm, so no welding is needed for attaching a thumb, and hydraulic hookups at the end of the arm for easy connection to a quick-coupler system. Buyers can also choose optional rotating hydraulic piping for operating a tiltrotator.
Another option Develon thinks operators will like is a four-way angle blade on the front that tilts and turns. The company says the feature enables optimal blade positioning, reduces the need for frequent machine repositioning and makes for efficient backfilling.
Buyers can also choose between an open canopy or enclosed cab. The cab models come with heating and air conditioning with multiple vents and hands-free Bluetooth audio.
For the controls, operators can use either ISO or BHL patterns. Develon added control buttons to the joystick for more efficient operation of auxiliary hydraulics and for boom swing, which no longer requires a foot pedal.
A framed, full-glass door is designed to improve visibility, along with LED lights for illuminating the work area. A rearview camera is optional, as is a rotating beacon for alerting nearby workers. The standard alarm sounds when the excavator is backing up.
Develon's Fleet Management system comes standard, providing production and location data about the excavator, as well as preventive-maintenance updates. The data can be monitored via website or phone app.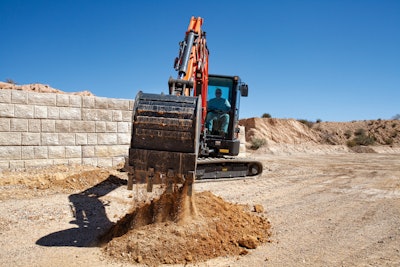 Quick Specs
Engine: Develon Tier 4 Final, 47 hp at 2,200 rpm
Operating weight: 9,877 lbs.
Maximum digging depth: 11 ft. 5 in.
Maximum digging reach (ground): 18 ft. 3 in.
Maximum loading height: 12 ft. 6 in.
Travel speed: 2.1 - 3.1 mph