Traditionally, wheeled excavators have been less popularity in North America because the open spaces and greater distances to travel favored larger equipment.
Peter Bigwood, general manager of Mecalac North America, believes that is no longer the case.
"As supply chain challenges continue and trucking costs increase, hauling equipment is becoming more expensive," he said. "Compounding that is the fact that jobsites are getting smaller and labor shortages plague nearly every industry and business."
He said these trends make it easy to recognize that the North American market needs compact equipment and the specific advantages that the wheeled excavator offers.
Mecalac introduced its MWR Series wheeled excavators to the U.S. market in 2020 and then offered a deeper dive into the specs for the machines at a recent media event in Denver.
The models in the series include the 7MWR, 9MWR, 11MWR, and 15MWR, which is available with a two-piece boom attachment. The excavators range in size from 7 to 15 metric tons, with the model number representing the operating weight.
Per design, the intent is to benefit a broad range of applications in the construction, landscaping, and forestry industries, as well as municipalities and utility construction.
While in Denver for the media event, Equipment World had an opportunity to catch up with a contractor Luke Parmenter, the owner of L&S Earthworx, Ellensburg, Washington, who uses a Mecalac 9MWR regularly.
Parmenter has owned his 9MWR for a year and a half, using it for work on apartment and condo complexes with overhangs, decks, and tight spaces that must be maneuvered.
"It can pretty much do two jobs at once," he says. "It can transfer materials in the skid bucket, as well as be an excavator. It can be a tool carrier – it has lots of hydraulic flow."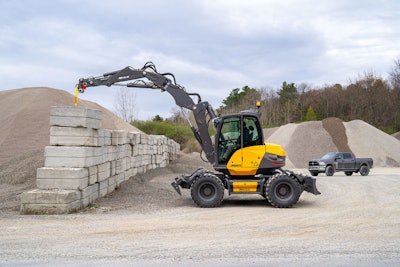 Before purchasing the Mecalac machine, Parmenter was running a 5-ton excavator that he had to haul from jobsite to jobsite.
"I wanted wheels because I do a lot of work on hard surfacing and I'm just tired of wearing tracks out and spending a long time moving around jobsites," he said.
For Parmenter, the Mecalac 9MWR was the right fit. With it, he has been able to take on bigger jobs than he previously was able to due to its versatility.
"It's been a great machine, it has helped me get more jobs because of what I can do being a small one-man band," he said.
Parmenter has found that he can maneuver and spin in smaller areas than he ever could with his 5-ton machine.
Now having experienced the benefits, he feels more contractors should give wheeled excavators a chance.
"A lot more people would have one I think if they tried one," Parmenter said. "It's been a real great thing for me."
On a recent job, Parmenter was hired for a two-day portion of the project to move some gravel. Crews on site had a skid steer to utilize.
Driving in with his Mecalac excavator, Parmenter quickly moved the gravel up to where the work was being done.
Shortly after witnessing the speed of his work, the jobsite superintendent came over to him and asked, "How long can you stay here?" The two-day job became a four and half month job.
"It's been a great tool," he said. "I don't know what else to say."
As Parmenter suggested, Mecalac says its MWR series of wheeled excavators are built to offer maneuverability in tight working areas and the versatility of a skid steer or compact track loader in one machine.
Each of the four models in the MWR series offers speed in a compact footprint to reduce travel time on the jobsite between jobs.
Three of the machines—7MWR, 9MWR, and 11MWR—are powered by 75-horsepower engines, while the largest, the 15MWR is driven forward by a 136-hp unit.
Coming in at around 7 metric tons, the 7MWR offers speeds up to 19 mph. Both the 9MWR and the 11 MWR provide contractors with standard speeds up to 12 mph with an option of enhanced speeds up to 22 mph on the 9MWR and 19 mph on the 11MWR. As the largest model, the 15-metric ton 15MWR delivers speeds up to 21 mph.
To increase stability and reduce the risk of undercarriage damage over conventional wheeled excavators, Mecalac lowered the turret's center of gravity as much as possible while leaving enough ground clearance to protect the undercarriage.
This also made the machine easier to access for the operator due to a lower cabin. The company says the cab is 20% lower compared to rival products.
According to Mecalac, the MWR series machines have a center of gravity and cab that is 20% lower compared to competitive models.
In addition, for maintenance, the machines feature ground-level service points. Along with service points, Mecalac even moved the fuel tank to ground level.
With the fuel tank below, operators don't have to climb onto the machine, everything is accessible from the ground.
To maintain its overall small footprint, the four-wheeled excavators feature Mecalac's side boom design.
For further compactness, the MWR wheeled excavators can be equipped with a four-wheel steer, allowing a near U-turn on the spot, the company says.
Although compact, the MWR machines can lift and move items. The company says the 7MWR can lift 3 metric tons at 10 feet through 360 degrees. Specific information on the different models in terms of lift capacity was not provided.
The excavators include Mecalac's hydraulic quick coupler, making it easier to transition between attachments such as buckets, forks, or other implements directly from the cab.
There is no risk of detaching from a tool while it is being connected or while in operation. The coupler has a detection system that alerts the operator if the tool is improperly secured.
All MWR models in North America come standard with MyMecalac, the company's fleet management technology. The telematics system offers summaries of specific machine details, including maintenance, inspection, and damage notifications.
"We're confident that the MWRs will be a game-changer for contractors and operators in North America for years to come," Bigwood said. "There are wheeled excavators, and there are Mecalac MWR wheeled excavators."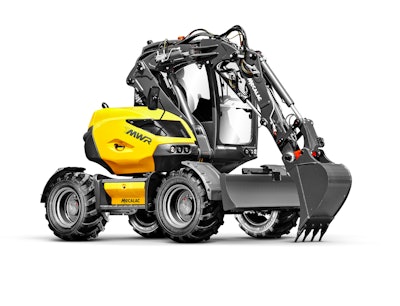 Quick Specs
7MWR
Operating weight: 16,210 lbs.
Engine: 75 hp
Speed: 19 mph
Max. depth: 9 feet 11 inches
Breakout force: 9,666 lbf.
9MWR
Operating weight: 19,850 lbs.
Engine: 75 hp
Speed: 22 mph
Max. depth: 11 feet 6 inches
Breakout force: 11,240 lbf.
11MWR
Operating weight: 24,250 lbs.
Engine: 75 hp
Speed: 19 mph
Max. depth: 12 feet 6 inches
Breakout force: 13,500 lbf.
15MWR
Operating weight: 34,079 lbs.
Engine: 136 hp
Speed: 21 mph
Max. depth: 15 feet 9 inches
Breakout force: 18,370 lbf.