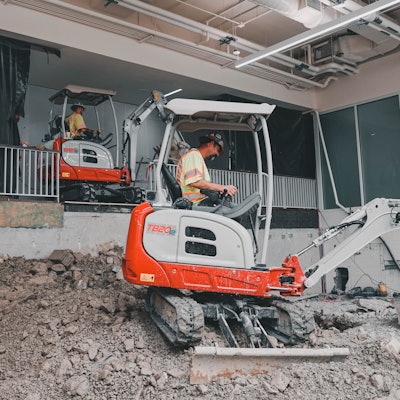 Takeuchi
Takeuchi's TB20e battery-powered compact excavator will soon be available for sale or rent at qualified Takeuchi dealer locations throughout North America.
Before making the machine available to dealers, the TB20e underwent a year of customer feedback and testing through a pilot program Takeuchi conducted with United Rentals. Dealers must complete a training program through Takeuchi to sell and service the machine, says National Marketing Manager Stephen Odum.
"The TB20e is an example of Takeuchi's enduring legacy of innovation in the compact equipment market," said David Caldwell, national product manager for Takeuchi-US. "We're committed to environmental stewardship, and this new battery-powered excavator is designed to help our customers meet their own sustainability goals without sacrificing the performance and reliability they deserve and expect from Takeuchi."
Similar in performance to Takeuchi's diesel-powered TB216 compact excavator, the TB20e is powered by lithium-ion battery. When fully charged, the machine will run anywhere from four to eight hours, depending on the application and environment.
It features an on-board charger with 95-volt to 265-volt single-phase power. When operators need additional runtime, they can tether the TB20e to the onboard charger to keep working.
A faster, optional off-board charger can charge the TB20e in two to four hours using 408-volt to 552-volt three-phase power. An emergency switch located on the seat riser prevents the machine from operating or charging when activated.
Weighing in at 4,255 pounds, the TB20e has a maximum dig depth of 7 feet 10 inches and a maximum reach of 13 feet 4 inches. It features a standard long arm with an integrated thumb mount.
When running a hydraulic hammer or other hydraulically driven attachments, a primary hydraulic circuit plumbed to mid-arm delivers 9 gallons per minute of flow. Because the TB20e has no engine, there are no fuel filters, engine oil, engine oil filters or coolant to maintain.
The cab features a 4.3-inch high-definition, multifunction monitor, electrohydraulic joystick controls, key start, suspension seat, traditional travel and blade control levers and an electronic dial throttle. The dial throttle increases motor speed incrementally; however, unlike a diesel engine that gets increasingly louder as its rpms ramp up, the TB20e's only sounds come from its motor and pumps.
The Takeuchi Fleet Management (TFM) telematics system comes standard with free access throughout the machine's two-year standard warranty period. Along with remote diagnostics and scheduled maintenance reminders, owners can geofence their machines for added security.
"The TB20e is an exciting addition to our constantly evolving line of products," Caldwell said. "We designed the TB20e to help our dealers provide customers with an excavator that delivers outstanding features, unmatched performance, excellent serviceability and great value – along with all the unique benefits that a battery-powered machine has to offer."