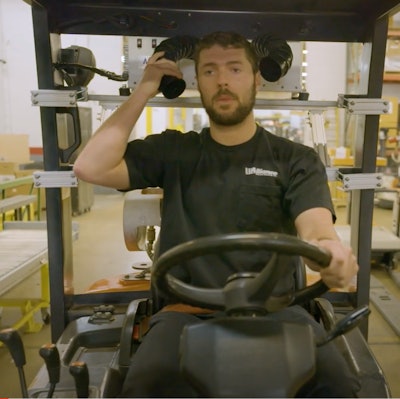 Cabin Cool
A startup company has developed what it says is the first air conditioner to work on open-cab construction equipment.
The M100 by Cabin Cool can mount to any piece of construction equipment as long as it has an electrical system it can hook into. The air conditioner weighs 50 pounds, is 2 feet long, 11.5 inches wide and 8 inches high.
The company says it can reduce the temperature on the operator by 25 degrees. The technology was developed at the University of Maryland and was funded by the U.S. Department of Energy. It can achieve such cooling results by focusing on cooling the person, which takes much less energy than cooling the open space.
"As long as the heavy equipment has an electrical system and a place to mount the product, you can use it," says Cabin Cool CEO Todd Stave. "Cool air blowing on the worker, and under that worker's control, provides instant relief in a hot environment. It is a very effective, affordable product and ideal for the wide variety of open cabs in the heavy equipment industry." The company lists the following types of equipment: material handling, aerial platforms, paving, earthmoving and excavation, agriculture and landscaping, and general construction.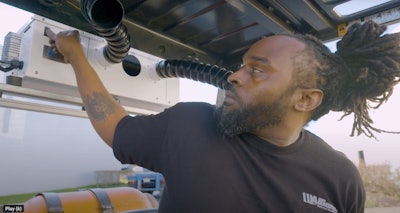 The air conditioner runs on the equipment's electrical system and can operate on diesel, gas and electric equipment. In a video on the company's website, it shows the device mounted to the back top of an open cab fork lift. Two hoses are positioned on either side of the operator's head and can be adjusted.
It is designed to withstand dirty, harsh environments and can cool the operator at 10% the power used by a typical window air conditioner, according to Cabin Cool.
The M100 draws up to 275 watts of power and produces 600 watts of max air flow. It uses a small electric heat pump with a powerful fan, the company says. "The cooled air is blown at relatively high pressure, and the operator is able to control the power, temperature, fan speed and where the air is directed."
The M100 retails for $4,500 and is manufactured by Air Innovations of Syracuse, New York. It can be purchased through Cabin Cool's website or at its distributors in North America. Cabin Cool was founded in 2022 "by a group of investors in the heavy equipment industry," the company says.