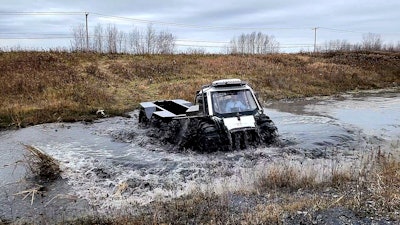 Fat Truck
It's hard to look at Canadian-based Zeal Motor's Fat Truck without thinking, "I need to drive that thing."
The boxy vehicle with massive, high-traction tires is designed to be a go-anywhere vehicle capable of traversing the harshest terrains.
Now, the new Fat Truck 8x8, the world's first hydraulically driven articulated amphibious vehicle, can transport even heavier payloads or additional crew members to sites where the company's 4x4 just won't do. Available in hauler or wagon configurations, the amphibious vehicle can carry a payload of 5,000 pounds or a crew of 16 workers.
"A vehicle capable of traveling at 25 mph on land, 3 mph on water, climbing steep muddy hills while meeting all the safety requirements is an outstanding advantage that only the Fat Truck can provide," says Vice President of Sales and Marketing Amine Khimjee.
The truck runs on a 173-horsepower, Tier 4 Final Cummins 3.8-liter turbo diesel engine. Rather than a steering wheel, the Fat Truck is controlled by a joystick. The vehicle's innovative articulation allows the vehicle to climb 4-foot vertical walls with ease, Fat Truck says. It can tackle uphill grades up to 35%, or downhill grades up to 70%.
The footprint of the 8X8 is just 1.9 psi at its maximum payload, which is five times less than the weight exerted by a human. It is 111inches tall, 100 inches wide and has a 25-inch ground clearance. The hauler configuration is 322-inches long, while the wagon model is 325 inches. Depending on how it is equipped, the models weigh 13,000 to 14,000 pounds.
ConExpo-Con/Agg 2023 marks the Fat Truck 8X8's first public appearance and is at booth S63729. You can see more of what OEMs have in store for ConExpo 2023 on our show preview page by clicking here.