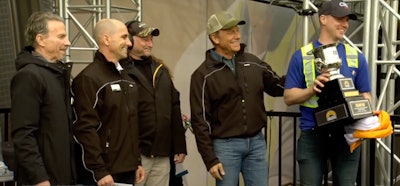 Caterpillar
The world's best equipment operator has been selected out of nine finalists who competed this week at ConExpo in the Caterpillar's Global Operator Challenge.
And the winner is Patrick Doheny of Australia. Doheny achieved the overall total best time in three challenges: wheel loader, backhoe and excavator.
Matt Ferris, a senior superintendent at Kincaid Civil Construction in San Tan Valley, Arizona, came in second place, followed by Łukasz Mokrzyński of Poland who came in third place.
Caterpillar also named winners of each individual competition:
Doheny won the wheel loader challenge.
John Scheideck, owner and CEO of Scheideck Construction Inc. in Bastrop, Texas, won the backhoe challenge.
Mokrzyński won the excavator challenge.
The Americas team of Ferris, Scheideck and Fernando Do Nascimento of Brazil won the team competition against Europe and Asia Pacific.
The other finalists were: Pontus Ericksson, Sweden; Sebastian Behr, Germany (third-place finisher in 2020), Masato Imai, Japan; and Nick Thompson, Australia.
To advance to the final round of competition, the finalists executed a range of tasks using a variety of Cat equipment technology. Competitions have included digging trenches to targeted depths, hitting target material loads and hauling or maneuvering the equipment through a variety of obstacles.
The finals were held March 14 at Cat's booth at ConExpo, where competitors completed a day of challenges. At the end of the day, the awards were presented by Mike Rowe, host of the Discovery Channel series "Dirty Jobs."
As this year's winner, Doheny will receive an all-expense-paid trip for two to one Caterpillar location worldwide.
To watch a video of the finals, click here.