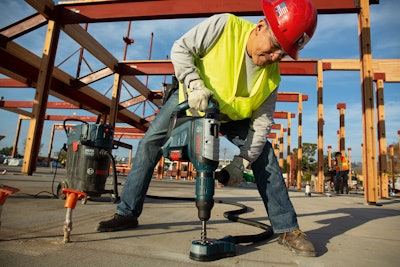 Bosch has launched a new line of heavy-duty cordless tools with a battery power system that the company says makes them more powerful than their corded counterparts.
The new ProFactor high-powered rotary hammers, grinders and saws pair Bosch's most powerful lithium-ion battery, the Core 18V, with a new BITurbo brushless motor designed to optimize that battery power for the most demanding jobs.
"It's the part of our tools that produces the high output needed to deliver the corded performance cordless tools so desperately have needed," said Mike Tsiolis, lead ProFactor marketing manager, during a virtual press event February 9. "Our engineers understood that to deliver serious power on an 18-volt platform, we had to do something drastic."
The Core18V ProFactor batteries are designed for reduced resistance and greater efficiency, so tools can draw higher currents. The ProFactor batteries come in 8- and 12-amp-hour versions.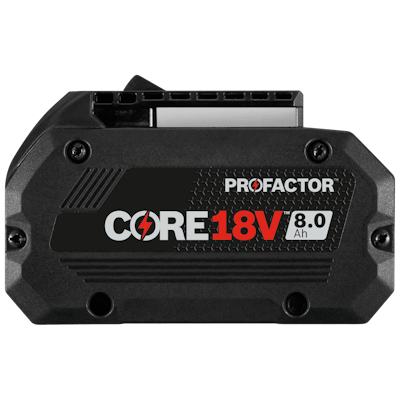 Tsiolis says the 8 Ah ProFactor battery provides 75 percent more power and double the runtime than the Core 18V 4-amp-hour battery. He added that though the battery now has ProFactor in its name, it is still compatible with standard 18-volt tools.
The company's newest battery is a 12 Ah battery exclusively for ProFactor tools. It delivers 50 percent more runtime than the 8 Ah battery and is geared to heavy-duty tasks.
"It's for those applications that need the runtime and power to get the job done," Tsiolis says.
To accompany the more powerful batteries, Bosch recommends its Hell-ion Turbo Charger, which came out last year.
"We can get a battery up and running to 50 percent in 9 minutes for a 4-amp-hour battery; 15 minutes for an 8-amp-hour battery, and 22 minutes for a 12-amp-hour battery," said Corey Hinkel, lead ProFactor marketing manager.
ProFactor tools are available for pre-order, and more will be released in 2021, the company says.
Here's the current lineup of the new tools:
Rotary Hammers
GBH18V-36CN 18V Hitman Connected-Ready SDS-max 1-9/16" – delivers 4.3 foot-pounds of impact energy
GBH18V-45CK 18V Hitman Connected-Ready SDS-max 1-7/8" – delivers 5.2 foot-pounds of impact energy
GBH18V-34CQN 18V Connected-Ready SDS-plus 1-1/4" – delivers 9.3 foot-pounds of impact energy
Grinders
GWX18V-13CN 18V Spitfire X-LOCK Connected-Ready (5-6") Angle Grinder with Slide Switch ­
GWS18V-13CN 18V Spitfire Connected-Ready (5-6") Angle Grinder with Slide Switch
Saws
GKS18V-25GCN 18V Strong Arm Connected-Ready 7-1/4" Circular Saw
GCM18V-12GDCN14 18V Surgeon 12" Dual-Bevel Glide Miter Saw
GKT18V-20GCL 18V Connected-Ready 5-1/2" Track Saw with Plunge Action