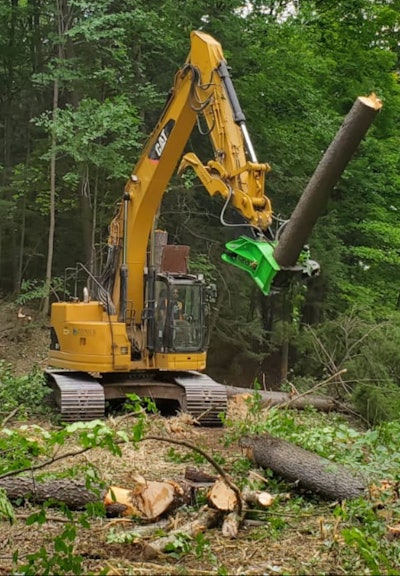 There's so much more you can do with your excavator than dig. These 15 attachments offer a range of options, from land clearing to demolition. You can even run skid steer attachments and grind stumps. And of course, we added some buckets, too.
Caterpillar's TiltRotate System for the company's next-generation compact excavators enables attachments such as buckets and grapples to rotate 360 degrees and tilt 40 degrees to each side. Operators can maneuver attachments over, under and around obstacles while excavating, grading and other tasks. The two TiltRotate models, TRS6 and TRS8, come in hydraulic coupler or pin-on configurations. An internal grapple is optional.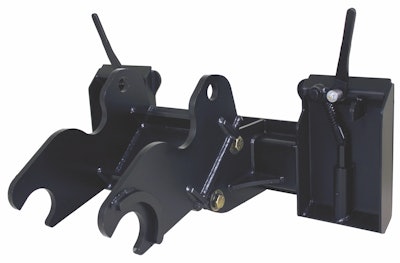 The Hookup from Construction Attachments enables your excavator to convert from pin-on to a standard two-pin skid steer universal hitch. It can be used with such attachments as buckets, forks, root rakes, manual snow blades and tree booms and can be unbolted and rotated 180 degrees for backfilling, excavating, hill scraping and similar uses. The universal skid steer adapter is designed for excavators up to 10 tons. It features adjustable, bolt-on hitches that can be reversed and interchanged. The pins are wear-resistant and have greaseable zerk fittings.
Epiroc Combi Cutters come in a variety of jaw types for use in primary demolition and secondary reduction of concrete structures, as well as cutting steel structures at demolition sites. Jaw types are designed to be easily switched on the job with the Coupling and Positioning System. The hydraulic cutters deliver high crushing force and short cycle times and feature 360-degree integrated rotation devices. Crushing teeth and cutting blades are replaceable. Cutting blades are also reversible. Piston rod guards enable full hydraulic cylinder protection.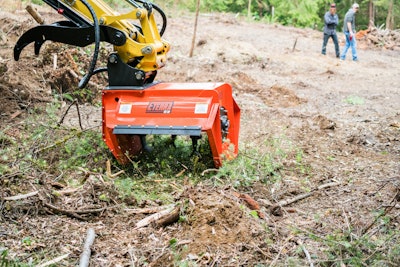 Eterra's EX-30 Heavy Duty Brush Mower is designed to be light enough for working on side hills to prevent the excavator from tipping over. It can cut through material up to 5 inches thick, and up to 6 inches if operated slowly and steadily. It is compatible with excavators of 7,500 to 14,000 pounds and 13 to 35 gallons per minute of hydraulic flow. The mower features a 2-pound blade and Permco USA motor. It is designed to reach the smallest properties and leave a fine mulch for minimal cleanup. It is sold through Skid Steer Solutions.
Fecon's Stumpex EXC can cut through the stump of any species of tree that is 10 to 28 inches in diameter in one pass, the company says. The auger-type grinder is designed for excavators ranging from 12 to 20 tons. It has a max cutting depth of 20 inches. The low-speed, high-torque attachment operates at 7 to 17 rpm, leading to minimal discharge when grinding, for easier cleanup. That's because of the Stumpex's threaded cone and staggered AR500 cutting blades. The low grinding speed also increases safety.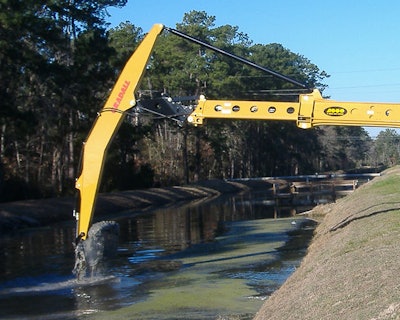 The Gradall Telestick provides a 50-foot boom extension for the company's truck-mounted excavators, which can reach highway speeds when traveling to and from jobsites. It can also be used on the XL 5200V crawler models. The device can aid in canal and culvert cleaning, grading and shaping ditch edges and storm cleanup when equipped with bucket or grapple. The boom extension can tilt 220 degrees for working on slopes, under bridges or in tunnels. The boom movement is powered by a load-sensing hydraulic system.
Kubota by Land Pride excavator augers can dig holes in hard to reach areas and dig deeper than similar attachments for a skid steer or compact track loader. Features include a level indicator so the operator can tell when the auger is vertical for digging and output shafts that provide high torque resistance. An optional cradle supports the auger while traveling and keeps it from swinging erratically. The augers have Universal Quick Attach hitches. The EA35 model requires 15 to 30 gallons per minute of hydraulic flow; the EA20 requires 6 to 30 gpm.
Montabert's V7000 hydraulic breaker fits in the 20,000-foot-pound impact-energy class and features automatic variable energy technology that adjusts to material hardness. An automatic pressure regulator guarantees optimum performance regardless of oil temperature or hydraulic conditions, the company says. Blank fire protection reduces the energy exerted by the strike piston to limit wear on key components. The energy recovery valve captures recoil and converts it to additional energy. The breaker also has an automatic lubrication system.
Okada's TOP 1000J hydraulic hammer is designed for excavators weighing 82 to 110 tons. Applications include demolition of heavily reinforced concrete structures, building foundations, trench rock and boulders. The hammer requires 92 to 110 gallons per minute of hydraulic flow, and it breaks at a rate of 200 to 280 blows per minute. Features on the hammer include a large-capacity accumulator to reduce pressure spikes to protect the excavator's hydraulic system, and nitrogen gas to cushion the piston's upstroke and increase downstroke.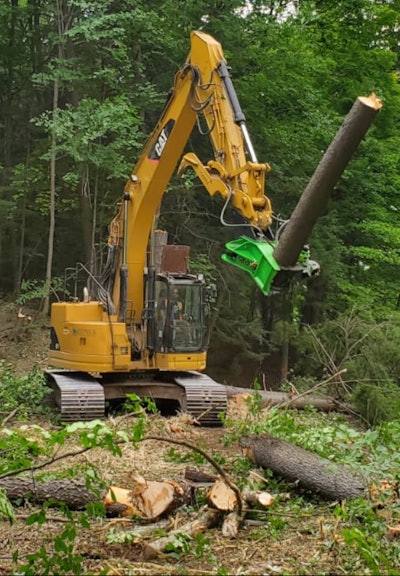 The Omef Tree Shear enables the operator to grab and cut at the same time. It can slice through trees of 8- to 24-inch diameter. It reduces operating machine movement and speeds up loading. Offered by National Attachments, the landclearing device can be used with excavators ranging from 2 to 40 tons. It comes in five models and is made of AR400 and AR500 steel. The shears are designed for fast, efficient, low-cost productivity and can manipulate tree length with predictability and safety.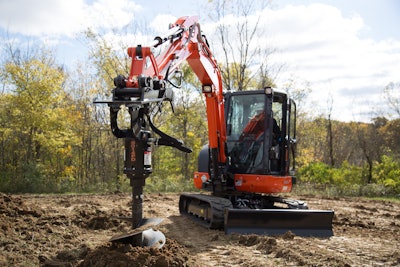 Premier Attachments offers its earth auger drives for compact excavators in two styles – Standard Duty for light to moderate drilling and Heavy Duty for tougher conditions. Auger drive mounts are available for all models of compact excavators, including those for pin-on buckets and OEM and aftermarket quick couplers. Custom mounts are also available. A cradle function is offered with the mounts to hold the drive and auger bit secure when moving from hole to hole. Output shafts are available in 2-inch hexagon, 2-1/2-inch hexagon and 2-9/16-inch round.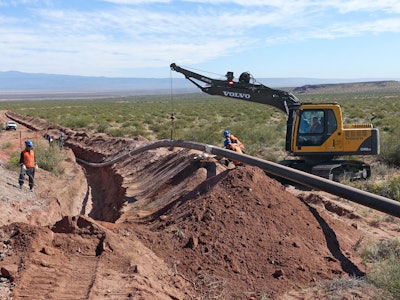 Volvo Construction Equipment has a new attachment kit that allows its 14-ton excavators to be converted into rotating pipelayers and also make trench work safer. The pipelaying boom can be attached to the excavator's main boom in about an hour. With a rated load of 7,300 pounds, pipes up to 20 inches in diameter can be handled. When used in tandem with Volvo excavators' rotating superstructure, the kit gives the operator more maneuverability and control when placing pipe without having to reposition the tracks. It is also designed to be ready for transport within minutes.
Werk-Brau's new extreme duty excavator buckets are designed for demolition work, as well as working in shot rock and other abrasive material and performing moderate prying. When paired with a thumb, they can be used for material handling. Widths range from 3/8 to 10 cubic yards. High wear components are made of AR400 through AR500 steel. Further protection is provided by side wear plates, horizontal wear stripes and an extra-thick cutting edge backed by a wear plate covering the bucket bottom.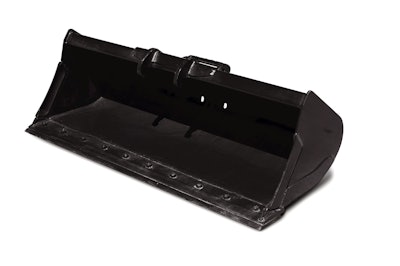 Bobcat's new Heavy-Duty Grading Bucket is designed for the company's larger excavators, the E145 and E165, which were launched in the past year. The Heavy-Duty Grading Bucket is for moving material on the jobsite, as well as for finishing, grading, backfilling or cleaning ditches. The bucket can be attached by pin or quick coupler or used with a thumb. Bobcat also released four other attachments for the larger excavators: the Heavy-Duty Trenching Bucket, Hydraulic Quick Coupler, HT Thumbs and Pro-Link Thumbs.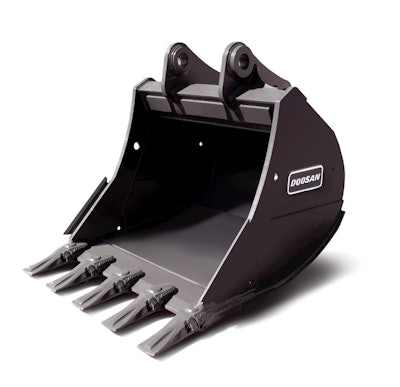 Doosan severe-duty buckets for crawler excavators can handle abrasive materials during heavy digging and loading. Features include side cutters, a shell bottom and side plates, as well as a weld-on wear shroud, all of which consist of abrasive-resistant material. Four or six reinforcing gussets strengthen the machine fitting joint on the bucket. Front wear pads provide additional protection from rocks and irregular materials. An abrasive-resistant wear strap on the bottom improves wear resistance when working in harsh materials.