The new DeWalt Flexvolt 60V Max SDS combination hammer hits with 10.5 Joules of energy and 380 rpm to take apart even high strength concrete. The 1-¾ inch combination hammer has an optimized drilling range on bits between 5/8 and 1-¼ inches.
Constant speed control maintains rpms regardless of bit size or depth. A variable speed dial helps you accurately start holes and fine-tune your chipping and demolition work. The tool weighs 15 pounds (tool only) and hammers at 1,450 to 2,900 beats per minute.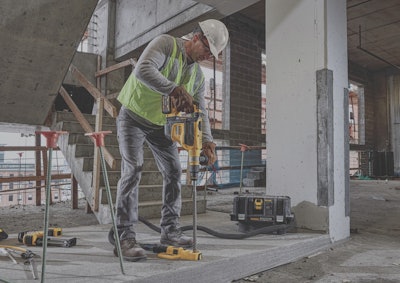 As for ergonomics, active vibration control reduces shocks to the user. Dust control capabilities keep you on the right side of the new OSHA silica dust regulations. The dust control system is wireless and pairs the Flexvolt 60V Max with a DeWalt dust extractor kit (DCV585) for remote activation.
The tool comes with two 9 amp/hour batteries for $899 or without a battery for $599.