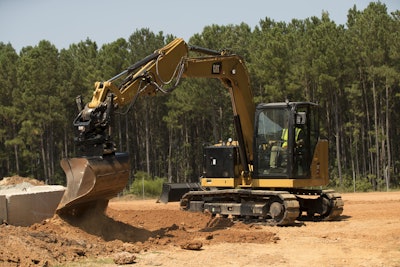 Caterpillar's new TRS6 and TRS8 TiltRotate System (TRS) will bring tiltrotator capabilities to Cat Next Gen compact excavators. Using the TRS, users will be able to use a variety of attachments, including buckets, forks, grapples, brooms, and compactors.
Cat says it is partnering with Rototilt in developing TRS, but that it added design elements that in part have lead to a significant decrease in dealer install time. A unique aspect to this particular tiltrotator design, Cat says, is its quick install time. Cat says it found that installing many tiltrotator models could take as many as 24-36 hours. It says the TRS6 and TRS will only require about four hours of install time.
Tiltrotators have seen a growing acceptance in the North American market after their wide spread adoption in Scandinavia and northern Europe. The couplers rotate 360 degrees and tilt 40 degrees side-to-side, giving compact excavators as well as excavators and backhoes the ability to maneuver attachments over, under and around obstacles.
Cat says TRS models have two interfaces: a top interface that connects the TRS to the carrier machine; and a bottom interface that connects various work tools to the TRS.
The four configurations for the model TRS8 allow selecting an S-type coupler for both the top and bottom interfaces, or a pin-on top interface and pin-grabber coupler bottom interface, determined by whether or not the TRS has an integral grapple. (The pin-on/pin-grabber configuration is not available with the integral grapple, Cat says.)
The TRS models are available in various configurations to match the application. TRS6 models fit the Cat 306 CR compact excavator. TRS8 models using the S-type coupler for both top and bottom interfaces fit Cat's 307.5, 308, 308.5, 309 and 310 compact excavators. Two TRS8 models use the pin-on/pin-grabber interfaces and fit the 307.5, 308, 308.5 and 309 compact excavators; the other is designed for the 310.
Cat says the TRS6 models allow the compact excavator to maintain high digging forces. They have a reinforced gearbox with a bearing ring that distributes working forces to reduce stress on the TRS and the host machine. Heat is distributed via a no-maintenance lubrication system for the rotation system.
"The high-torque rotation system quickly positions work tools, and an integral self-locking mechanism enables digging at any angle required," Cat says. On TRS8 models, a single grease point distributes grease to all joints needing lubrication.
The double-acting tilt cylinder has integrated load-hold valves that sustain holding pressures and prevent cylinder movement under load. The cylinder also features hardened pistons and maintenance-free bearings, and, Cat says, its scratch-resistant, rust-proof surfaces require no maintenance.
An integrated, dealer-installed field control kit, which includes specially designed joysticks, suits all boom-and-stick combinations, Cat says. A separate TRS monitor shows the attachment's position and whether the attachment's safety locking mechanism is engaged or disengaged. The TRS8 model has a bucket-shake feature that is activated by a joystick button and helps the attachment spread materials evenly.
TRS quick specs
TRS6
| | | | | |
| --- | --- | --- | --- | --- |
| | 585-0421 | 585-0422 | 585-0423 | 585-04234 |
| Top interface | S40* | S40 | Pin-on | Pin-on |
| Bottom interface | S40 | S40 | S40 | S40 |
| Grapple | Optional | Standard | Optional | Standard |
*S-Type Coupler
TRS8
| | | | | |
| --- | --- | --- | --- | --- |
| | 570-7120 | 570-7121 | 570-7122 | 570-7123 |
| Top interface | S50* | S50 | Pin-on (8T) | Pin-on (10T) |