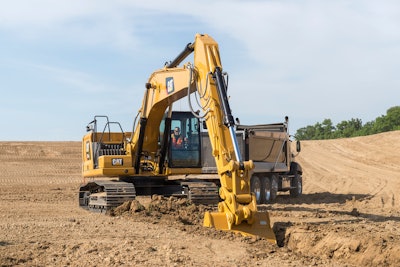 The 18-metric-ton JCB 150X features the spacious CommandPlus cab and a fully welded X-frame undercarriage. The most popular configuration has 24-inch steel tracks, a 9-foot-10-inch thumb-ready mono boom and a 109-hp engine.
"New and improved" is a trite marketing phrase, but it really applies to current mid- to full-sized excavators.
---
Biggest Bobcat
Bobcat's largest excavator, the E145, was introduced in September. With 115 horsepower, the E145 is designed for heavier digging and lifting operations, such as commercial and residential building sites, underground utility work and road and bridge projects.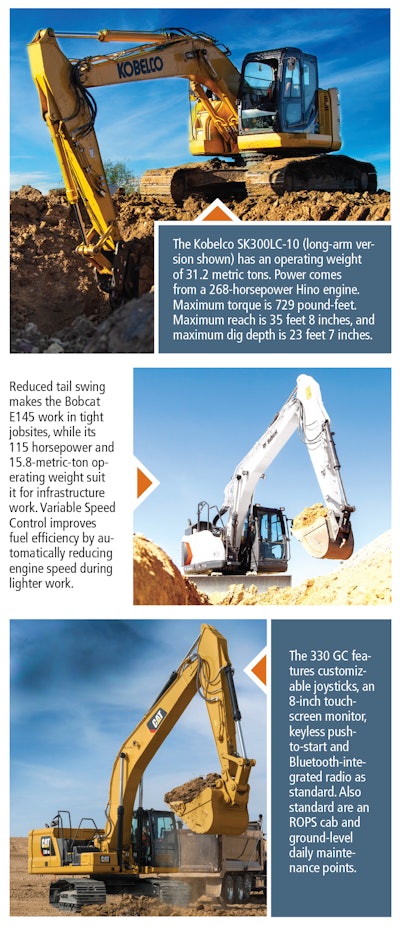 "The E145 nicely complements our 700- and 800-frame size compact track and skid steer loaders," says Jason Boerger, marketing manager. "It's also common for contractors to use a 14- to 16-ton excavator with smaller excavators on the same jobsite."
The upper structure features a D-channel design. Wear plates at the attachment-connecting pins eliminate side play for extended service intervals at pin-up points. Every major pin joint on the arm and boom is cast, and reinforced cast-steel pin bosses provide extra strength.
Long-reach machine
Andrew Dagartz, product marketing manager, Case Construction Equipment, says the new CX350D "is our most fully featured, powerful and efficient long-reach machine to date."
The Case Intelligent Hydraulic System balances hydraulic performance with demand and machine movement. Its electronically controlled pump, larger control valve and multiple sensors improve power, speed and accuracy. The system's Boom Economy Control reduces engine speed during gravity-assisted functions, such as boom down and swing.
Dagartz notes that D Series machines have greater standardization than previous Case excavators. This makes ordering parts easier, providing familiarity to both operators and service personnel.
Next-gen Cat offers two levels
Ryan Neal, product application specialist at Caterpillar, says the new 330, 330 GC, 336 and 336 GC illustrate the plan behind Cat's next-generation excavators.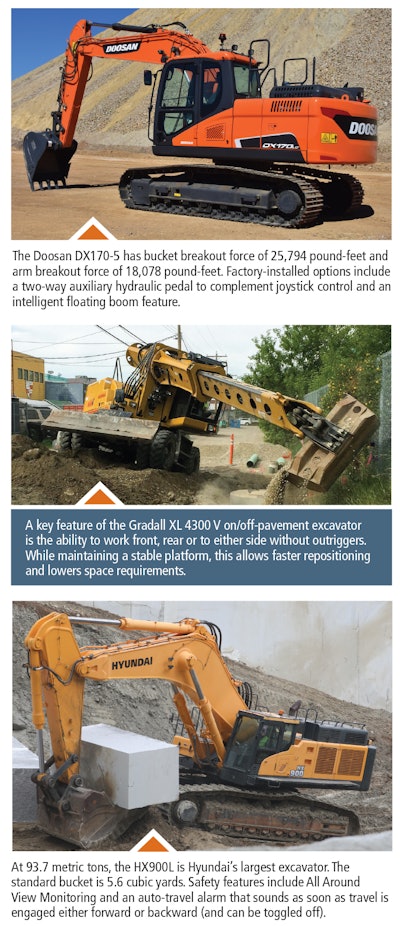 The GC machines are intended for light-to-medium duty and as support machines, and Cat considers them the "standard" model with fewer features and a lower initial cost. For example, while both 330 models come with Cat C7.1 engines, the 330GC is rated at 204 horsepower, and the 330 at 275. Neal hastens to point out that "GC models are not minimalist machines. The GC cab, for example, is still best-in-class in terms of comfort and amenities."
The non-GC models are designed for production work and other high-demand applications. They come standard with a technology package that includes Cat Grade with 2D, Cat Grade with Assist and Cat Payload.
Doosan power management
Advances continue in how machine systems communicate, and Doosan has two features that make this clear. Smart Power Control, or SPC, "helps reduce fuel consumption by as much as 7 percent," says Aaron Kleingartner, marketing manager, Doosan Infracore North America.
SPC matches outputs from the engine and hydraulic pump so they complement each other and respond in unison to changes in workload. Even though both systems are being manipulated during this process, response time is less than 1 second, says the company.
Doosan's D-Ecopower further improves performance and fuel economy, representing additional refinement of SPC. It is available only on the DX350LC-5, but is being considered for other models.
Hitachi Solution Linkage and TRIAS II
In 2019, Hitachi announced the launch of Hitachi Solution Linkage, a factory-integrated grade reference system developed with Topcon.
Solution Linkage is an available option on the ZX210-6, ZX210LC-6 and ZX350LC-6 models and comes fully integrated into the cab and structure to shield wiring and sensors from damage.
"Hitachi Solution Linkage takes the guesswork out of achieving the right grade and monitors digging in real time so jobs can be completed quickly," says Jonny Spendlove, product marketing manager, excavators.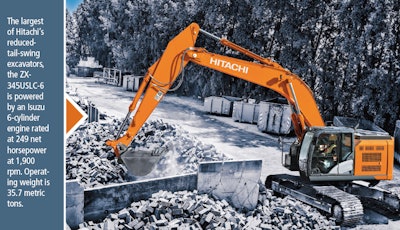 The ZX345USLC-6, introduced in 2018, features Hitachi's TRIAS II three-pump hydraulic system to meet varied hydraulic demand. The third pump provides additional oil to the swing circuit without stealing oil or speed from the other circuits. "This maximizes productivity without sacrificing fuel economy," says Spendlove.
Hyundai's customer-centric moves
In 2019, Hyundai introduced the HX140LC, with the "C" designating a Cummins engine, specifically a QSF3.8 inline 4 with a rating of 130 gross horsepower. The excavator is a sister to the Perkins-powered

HX140L. "By offering a Cummins engine in our 16-ton excavators, Hyundai provides customers with another proven option for achieving dependability and durability," says Rodolfo "Tito" Sosa, product specialist and sales trainer.
Hyundai also introduced its largest excavator in 2019, the HX900L, a 100-ton machine powered by a Scania engine rated at 615 net horsepower.
JCB's X Series
JCB's X Series, debuted in 2018 with the 220X. Since then, the 131X and 150X have replaced the JS131 and JS145, respectively. These new machines are clean-sheet designs and feature CommandPlus cabs that are 15 percent larger than previous models and have a 67-decibel sound pressure level. The 7-inch monitor has a rotary control dial.
JCB also upgraded the hydraulic system. Bucket breakout force is up 11 percent, and all bay access doors are double-skinned for durability.
The Yellow Series of the 131X, 150X and 220X excavators are thumb-ready and include an advanced tool selector to tailor machine performance to specific attachments, upgraded seating and bi-directional hydraulic flow. "Our Yellow Series program is designed to offer premium stock machines factory-equipped with the most popular features," says Patrick Baker, product manager for large excavators.
John Deere 2D and 3D move up
John Deere recently introduced factory-integrated 2D and 3D Grade Guidance as an option on the 470G LC excavator, "the largest excavator to feature this solution," says Jonny Spendlove, excavator product marketing manager.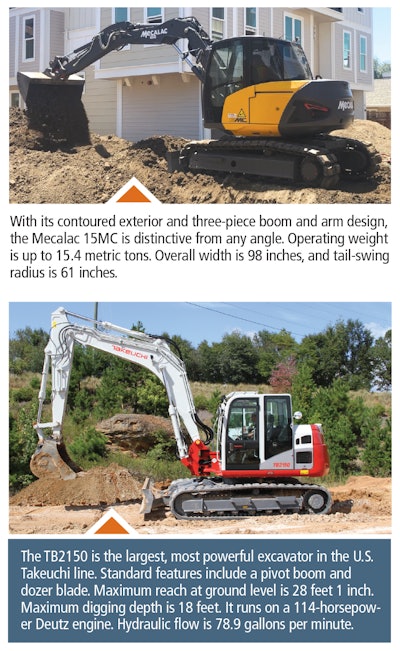 The system provides operators with the elevation and position of the bucket cutting edge relative to the target plane with 2D, or to the design surface with 3D. Grade Guidance is ideal for precision excavation projects, such as digging trenches for pipes, shaping ditches or slopes or digging structural foundations.
6 new models from Kobelco
Last year was a busy one for Kobelco, which unveiled six new excavators. George Lumpkins, general manager of marketing, and Dave Donneral, specialized machinery sales, outline the machines' highlights:
The SK390LC-10 satisfies a market need between 35 and 50 tons. It's big enough to lift pipe and trench boxes yet can be transported with the counterweight in place. The SK500LC-10 High & Wide has an extended width of 13 feet, and retracted width is 12 feet.
To ensure the SK300LC-10 Long Reach can handle the stress associated with its 62-foot reach, Kobelco gave it additional strength and stability. The SK400DLC-10 and SK550DLC-10 are for demolition and can handle tools from 2.6 to 5 tons. And the SK140SRD-5 is a specialty model for the auto-dismantling and recycling market.
Komatsu intros 3 models

Komatsu's medium-sized PC290LCi-11, introduced in March, is the fifth in the company's line of intelligent excavators. While it can dig straight to grade, the PC290LCi-11 also offers an offset function to dig below the finished grade specified in the plan, as when extra depth is required to place crushed stone bedding.
Andrew Earing, product manager, excavators, points out that while digging straight to grade improves productivity, "customers also appreciate the reduced wear and tear on the machine and the reduced operating hours accrued over their ownership of the machine."
Komatsu's new large excavators, the PC1250SP-11 and PC1250LC-11, feature a 13 percent boost in horsepower to 758 and deliver a 9 percent increase in production, according to Kurt Moncini, senior product manager of tracked products. The PC1250SP-11 has a shorter carriage and arm. Komtrax Plus is standard on both, and the Iridium Communications platform provides richer information.
Link-Belt Precision Grade
Powered by Trimble Earthworks, Link-Belt's Precision Grade on its 210 X4 model offers two levels of performance: machine guidance and machine control.
The former gives real-time location and positioning of the bucket relative to a benchmark set by the operator. The latter is a semiautonomous feature that controls boom and bucket functions.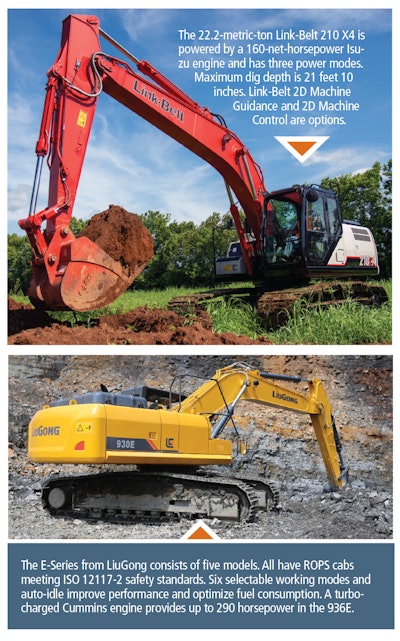 Adam Woods, product manager, says Precision Grade can increase productivity up to 50 percent.
The need for fill material can be decreased by 60 percent by reducing over- and under-cutting. Less rework can lead to fuel savings up to 28 percent.
Mecalac three-piece boom and stick
Mecalac's three-piece boom and stick design provides flexibility in reach and depth while still yielding high lift capacities, says the company.
Its Connect reversible quick-hitch allows both digging and lifting as well as loading. "Mecalac excavators are designed as premium-quality machines," says Peter Bigwood, general manager of Mecalac North America.
Mecalac also offers four models of wheeled excavators and three models of high-speed crawler-skid excavators (think skid steers with excavator arms and a 360-degree rotating upper structure).
All high-speed models boast travel speeds of 6.2 mph. Wheeled models include the 11-metric-ton 11MWR and 15-metric-ton 15MWR.
Takeuchi Fleet Management
Introduced in 2016, the 34,646-pound TB2150 features Takeuchi Fleet Management, as does all of the company's excavators. "TFM allows customers to connect remotely with their Takeuchi machines and provides alerts and machine information, including location, performance and maintenance insights," says Lee Padgett, product manager at Takeuchi-US.
TFM provides information in real time and can be used to reduce owning and operating costs in a number of ways, including reducing downtime through better management of maintenance and repair schedules, Padgett says.
Volvo high-reach model, standard Dig Assist Start
The EC750E HR from Volvo was launched in March and is based on the EC750E, but the high-reach model, with a maximum pin height of 118 feet, has been re-engineered for large-scale, high-reach demolition work. Three boom options are offered: two high-reach demolition sets and one digging boom set with an extension.
Also in 2019 Volvo made Dig Assist Start standard on all excavators, from the EC220E through the EC480E. Dig Assist Start makes excavating easier and faster, thanks to sensors that calculate depth and slope levels, Volvo says.
The company extended the Volvo Lifetime Frame and Structure Warranty to include Volvo demolition and wheeled excavators. "This covers the frame, boom and arm for the entirety of the initial ownership period," says Matthew McLean, product manager, excavators.
Wacker Neuson mixes large, small features
Wacker Neuson's ET145 conventional tail-swing model has operating weights in excess of 16 metric tons, depending on the configuration. It retains some features of a compact machine, including a swing boom, switchable ISO and SAE control patterns and a standard dozer blade. But it also has features found in larger excavators, such as a standard cab with heating and air conditioning and dual variable hydraulic pumps.