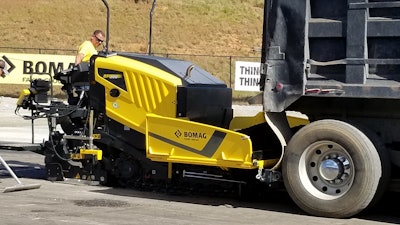 BOMAG's new BF 200 small paver is narrow enough to fit in the cut of a 4-foot cold planer on mill-and-fill tasks on road rehabilitation projects. It can also pave cart paths.
Paving widths range from 3.6 to 6.6 feet. With manual screed extensions, the width can be extended to 11.2 feet, and reduction skids can bring width down to 1.3 feet.
With a transport width of 51 inches and weighing 13,228 pounds, it can be hauled by trailer.
The paver includes BOMAG's Magmalife, which heats the screed to paving temperatures within 20 minutes. It also provides "more uniform heat distribution throughout the screed bottom for a tight mat texture without scuffing or tearing," the company says.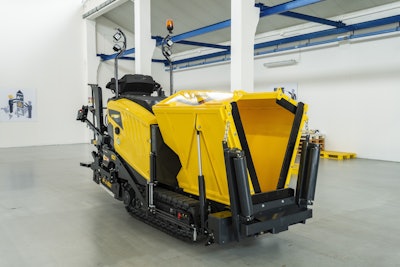 The two-level operator platform gives operators a view of the hopper and the sides of the paver. It can be run by a single operator. It also features an automatic steering radius system to match and hold cart path radius.
The hopper has a capacity of 5 tons and can be equipped with optional hopper wings that unfold hydraulically for easier loading, and it has enough power and traction to push the truck, the company says.
The 74-horsepower engine's Ecomode cuts fuel consumption by 20 percent from the standard mode. The engine does not require a diesel particulate filter or diesel exhaust fluid to meet Tier 4 Final emissions standards. It also meets Europe's more stringent Stage V emissions standards.