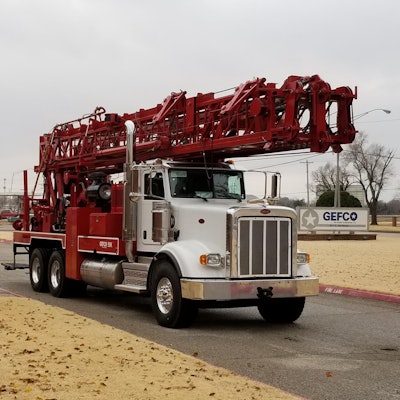 Astec Industries, owner of Roadtec and Carlson paving equipment brands, plans to sell GEFCO, an Oklahoma-based designer and manufacturer of portable drilling rigs.
"As part of a thorough strategic review of our product portfolio, we determined that divestiture of GEFCO enhances shareholder value and aligns with our vision for the future of Astec Industries," says Astec's new CEO, Barry Ruffalo. "We are in the process of finding a buyer for GEFCO's businesses. The transaction will further our strategy to simplify the organization, strengthen our financial position and release additional capital to deploy toward future growth opportunities. While the transaction is expected to enhance shareholder value, we remain mindful of the approximately 150 GEFCO employees that may be affected by the divestiture."
GEFCO is based in Enid, Oklahoma, and produces drilling equipment for water wells, geothermal wells, and cathodic protection; high-pressure double pumpers for energy services; and King Oil Tools for oil and gas and other applications.
Astec reports GEFCO contributed $50 million in annualized revenue, and selling it will "eliminate related annual operating losses." Proceeds of the sale would be used for investing in "future growth opportunities."
"The company will provide further details about its capital allocation strategy with fourth quarter and full-year 2019 results in late-February 2020," an Astec news release says.
GEFCO President Vince Trotta said he hoped a buyer "that more broadly participates and invests in the markets we serve" comes forward and that the buyer would retain GEFCO employees.
"In the event that is not the case," he said, "we will assist with job searches, unemployment registration, and other benefits."
Astec expects to complete a GEFCO sale by the end of June.
Chattanooga-based Astec acquired GEFCO, formerly known as the George E. Failing Company, in 2011. GEFCO was established in 1931. Its brands include Failing, SpeedStar and King Oil Tools. At the time of the Astec purchase, GEFCO was a division of Blue Tee Corporation.
Astec reported flat sales and lower earnings for the third quarter of 2019, which it attributed to soft market conditions.