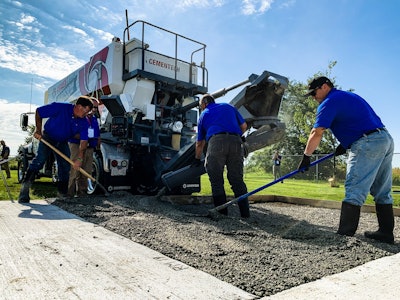 Cemen Tech, makers of volumetric concrete mixers and accompanying technology, has struck a distribution deal that represents a major expansion for the company into Canada.
SMS Equipment will sell and support Cemen Tech's full line of volumetric concrete mixing equipment at its 35 locations across Canada.
The world's largest Komatsu dealer, SMS Equipment was founded in 2008 when three Canadian equipment dealers, Federal Equipment (founded in 1952), Coneco Equipment (founded in 1966), and Transwest Mining Systems (founded in 1986) merged, according to a press release announcing the deal.
"SMS Equipment is pleased to expand into the volumetric concrete mixing industry, complementing our existing product offerings. Cemen Tech is a renowned global manufacturer that shares our commitment to customer support, value and product innovation," says SMS Equipment president and CEO Mike Granger.
"SMS Equipment's extensive network, their focus on providing superior customer service, and their proven track record of growth and industry expertise makes them a perfect partner to sell and support our concrete production solutions across Canada," says Connor Deering, president and CEO of Cemen Tech.