The ICUEE Demo Show is set for Oct. 1-3 at the Kentucky Exposition Center in Louisville. In the run-up to the International Construction and Utility Equipment Expo, we'll be providing a series of sneak peeks to give you an idea of what to look for. Check out yesterday's guide to the show's South Wing here.
Here is a sample of some of the equipment ICUEE attendees will see in Demo Lots K and L:
Hyundai, booth K345
Hyundai Construction Equipment Americas will showcase seven compact excavator models, including the prototype of an electric-powered model, the R35E. The prototype was developed in collaboration with Cummins Engine. Hyundai also will exhibit six conventional diesel-powered models from its 9A series of compact excavators, ranging from its smallest, the R17Z-9A, to its largest, the R80CR-9A. Also on display will be the HX140L excavator, now powered by a 127-horsepower Cummins QSF3.8 engine, and the HL940TM wheel loader.
American Eagle, booth L449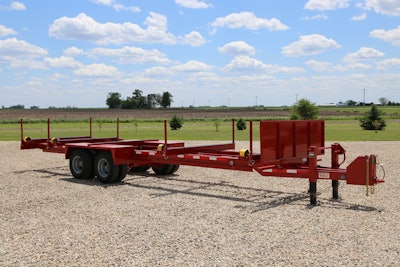 American Eagle plans to bring multiple models of its trailers, which specialize in transporting cable reels, coil pipe, stick pipe and utility poles. The trailers are used by rural electric power companies, municipalities, gas companies, utility construction and telecom companies, and for a variety of other uses. American Eagle will also display its truck-mounted hydraulic air compressors, heavy-duty and lightweight drawer systems in both steel and aluminum, LubeMate lube skids and trailers, FuelMate fuel trailers, and other work-truck accessories.
Doosan Portable Power, booth L328
Doosan Portable Power will show its new XP185 air compressor, which features increased runtime of 10 hours at 100 percent load, a Doosan airend and a 74-horsepower Tier 4 Final Doosan engine. The compressor delivers 185 cfm and 125 psi. The engine provides improved cold starting capability in temperatures as low as -10 degrees Fahrenheit. The XP185 can simultaneously power both air and electrical tools when outfitted with an optional 4-kilowatt generator. It also offers two 120-volt duplex outlets and easy access to the curbside rear panel, the company says.
Terex Utilities, booth L316
Terex Utilities will display new and antique equipment at its booth. New products include three models of the Transmission TL Series, with a wider range of chassis options for working heights up to 112 feet. The company will demonstrate the Transmission TL Series, as well as other digger derricks and aerial devices. That includes the Hi-Ranger Non-Overcenter Optima TC55 aerial device with Load Alert and updated screen display. In celebration of the 75th anniversary of its digger derrick line, the company will display a Tel-E-Lect digger derrick Model T15, mounted on a Dodge Power Wagon, circa 1956.
Vanair, booth L417
Vanair says its ICUEE exhibit will represent its largest display of new and upgraded products yet, with over 22 mobile power units, including its new Start-All Jump-Pack. The compact, 11-pound lithium-ion jump-starter is designed to instantly start up to 16-liter Class 8/CE gas and diesel engines, as well as charge phones, digital cameras, tablets and other devices. It can start multiple trucks off a single charge and has such safety features as reverse polarity, low-voltage protection, short-circuit overheat protection and over-discharge protection. The company will also display a patent-pending separator tank for underdeck units, an underdeck infinite variable-speed control and interface system, and several upgraded Air N Arc and Reliant models.
VMAC, booths L336 and 3352 (South Wing)
VMAC will show it 6-in-1 Multifunction Power System with a Caterpillar diesel engine, which includes a rotary screw air compressor, generator, welder, battery booster/charger, PTO with optional hydraulic pump, and integrated cold climate kit. The company will also display its new prototype concept, a 5-in-1 Multifunction Power System with a Honda gasoline engine, which includes everything needed for heavy-duty-mechanic work in a single system. VMAC will also release its new HVAC Cooling System, which enables its 6-in-1 multi-power system to provide truck cab cooling for 2019 Ford F450 to F550 single-cab trucks with a cab chassis.