The ICUEE Demo Show is set for Oct. 1-3 at the Kentucky Exposition Center in Louisville. In the run-up to the International Construction and Utility Equipment Expo, we'll be providing a series of sneak peeks to give you an idea of what to look for.
Here is a sample of some of the equipment ICUEE attendees will see in the South Wing Hall:
Auger Technologies, booth 4966
Auger Technologies will display and demonstrate its Bullet Tooth Puller, designed to quickly and safely extract conical auger bits, including those that are stuck fast. The company will also show its Original Pilot Line Controller System (PLCS), which was designed and patented by Alaskaug in the 1960s and is now manufactured exclusively by Auger Technologies.
CM Labs, booth 4358
CM Labs Simulations will display its new mobile crane tandem lift training pack for its Vortex simulators. The tandem lift exercise teaches the lead crane operator how to safely and efficiently maneuver a steel pipe load in tandem with a secondary crane, operated from another simulator connected on the network, the company says. The new Mobile Crane Training Pack also allows trainers to evaluate operator readiness with a Mobile Crane Skills Assessment.
DICA, booth 3652
DICA will debut an addition to the ProStack Cribbing product line designed for equipment used in the electrical utility industry. The interlocking blocks can be stacked for additional height to create a safer setup than traditional methods, the company says. ProStack interlocking cribbing blocks will be on display along with a variety of the company's Outrigger Pads and Crane Pads.
SMI Compact, booth 5424
Screen Machine Industries is now offering SMI Compact crushers and screening plants, which it will display at ICUEE. The machines are about one-fifth the size of Screen Machine's standard line of crushers and screens. The SMI Compact product line includes the 50TJ Tracked 16"x28" Jaw Crusher, 20TJ Tracked 10"x20" Jaw Crusher, 10TJ Tracked 7"x16" Jaw Crusher, 90TS Tracked 3'x8' Double Deck Screening Plant, 20SJ Stationary 10"x20" Jaw Crusher and 10SJ Stationary 7"x16" Jaw Crusher.
Step-N-Secure, booth 4164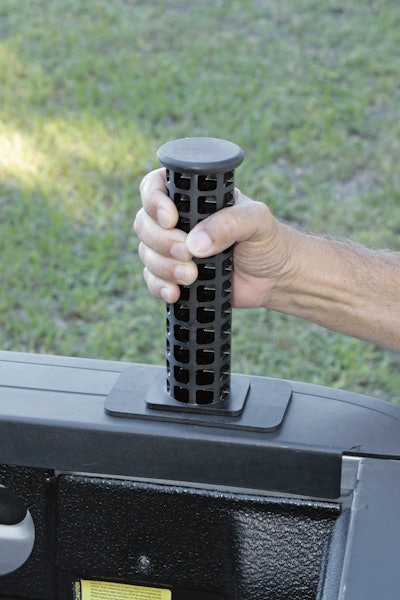 Step-N-Secure has launched a new product for Ford, GM and Dodge pickup trucks that installs into the truck bed stake hole, giving users a handle for stepping into the bed and a raised tie-down for securing large cargo loads. The company says the handle was developed by a lifelong pickup owner who wanted a safer way to climb into the truck bed, especially in slippery or bad-weather conditions.
Thunder Creek, booth 3016
Thunder Creek will show its Multi-Tank Trailer, which uses a series of 115-gallon tanks individually connected to a common manifold and pumping system. The system makes it possible for the trailer to be hauled without the driver needing a HAZMAT endorsement. The company will also display its Service and Lube Trailer, which can be customized with up to eight tanks for oil, reclaimed oil, antifreeze and diesel, as well as a DEF system, grease system and a variety of tools.