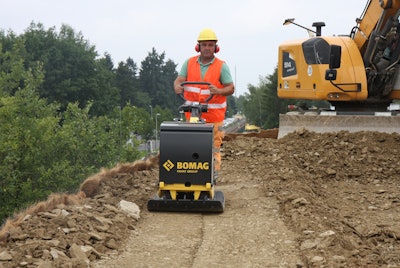 Offered as a more economical alternative diesel-powered models, BOMAG has introduced the BPR 60/65 reversible plate compactor.
BOMAG says the BPR 60/65 consumes less than 1 gallon of gas per hour, is comfortable to operate and compacts large areas of at speeds reaching 91.9 feet per minute.
Designed for soil and block paving applications, the flexible base design offers compaction widths of 17.7, 25.6, and 29.5 inches.
The machine also boasts the following features:
A hinged hood enclosure that fully surrounds the engine and components to safeguard against damage and maximize longevity.
Easy service concept with a convenient access flap for daily maintenance items plus hinged hood for unobstructed access to the engine and components.
Rubber isolation buffers provide extremely low hand-arm-vibration feedback, boosting operator comfort.
Long steering handle requires less effort to maneuver the compactor.
Large open area on engine hood for placing company logos.
Available BOMAG ECONOMIZER compaction measurement system with intuitive display to improve compaction quality.