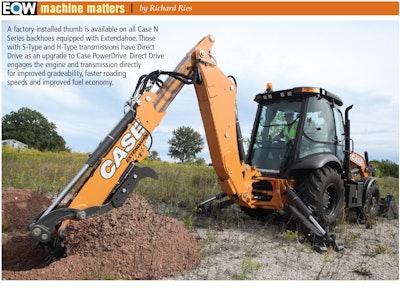 Backhoes are on a rebound, manufacturers say.
They declare that the reduction in model counts and sales figures is over, and the loss of market share to compact excavators and other upstarts is history.
Backhoes are not just making a comeback, they say. They're bringing improved features, value and versatility.
It would seem backhoes are emerging from a prolonged and costly battle of defending themselves against an onslaught from other equipment, most notably compact versions of excavators and wheel loaders. But Ed Brenton, Case product marketing manager, offers a different perspective. "The engineering work that goes into backhoes isn't meant to defend the segment against other products. It's done to keep evolving and improving a unique product platform to bring added value to core users who will always rely on backhoes." Among these core users, says Brenton, are owner-operators, utilities, public works and infrastructure contractors.
New directions
The 440 and 450 are the newest models from Caterpillar. Dustin Adams, backhoe loader specialist with Cat, says they provide previews of the direction the company will be taking with models 415 through 430 as they come up for refreshing. Overall performance has been enhanced, and numbers that define why backhoes are bought. Boom lift is up 15 percent on the 450 and 25 percent on the 440 from previous versions. Other areas of improvement include stabilizers and hydraulic cylinders. Primary weight balance has been improved to minimize porpoising while roading.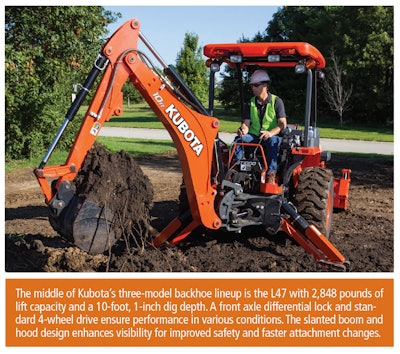 John Deere's Lift Mode – found on the 310SL HL, 410L and 710L models – provides a 10 to 15 percent boost at the rear for such tasks as lifting and craning. Another feature on Deere backhoes is momentary MFWD (mechanical front-wheel drive). This provides 4-wheel drive while the button is held. The machine is free of the parasitic loads and increased front tire wear of 4WD at other times.
Deere's JDLink provides a wealth of data. While many owners are happy to monitor that information themselves, others sign up with a growing number of dealers offering optional in-depth analysis. "Top-of-mind awareness for the customer is reliability," says Brian Hennings, product marketing manager at Deere, "and machine monitoring is essential for that."
Joysticks evolve
Diego Butzke, product manager at JCB, says manufacturers have used the technology necessary to meet emissions standards to provide a host of other features, including electrohydraulic joysticks. "Tier 2 and 3 machines were mostly mechanical. Yes, they had joysticks, but they were of pilot-control design." Electronics were required to meet Tier 4 restrictions, and advances in electronics opened the door for other features. He notes that JCB has had seat-mounted EH joysticks since 2007.
Adams says electrohydraulic joysticks are the enabling technology for far more features than in the past. While EH joysticks have been around for a while, they were initially used only on some circuits or for some functions. Today's joysticks are more fully evolved and more fully implemented.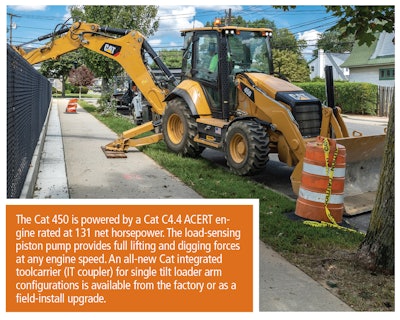 These days, most joysticks are seat-mounted and move with the seat. As is typical, Cat mounts the loader controls on the right side and the backhoe controls on the left. Which joystick is active depends on which direction the seat faces. But Cat also provides a dual mode, allowing both joysticks to be active in any seat position. Default is dual mode off, and it takes a deliberate effort to engage dual mode, to minimize the risk of unintentional deployment. To tailor controls to operator preference and site conditions, Cat joysticks provide fast-medium-slow response rates and coarse or fine control. A fast/coarse combination would work well for loading, for example, while medium/fine would be good for grading. Settings are made via the soft-touch buttons on the in-cab control panel.
While engine output, geometry and other design features are important, "in the end, it all comes down to hydraulics," says Joe Boufford, product marketing specialist at New Holland. "Powerful hydraulic pumps, efficient flow and an engine optimized for hydraulic performance are the critical factors." Pilot control provides an easy, intuitive means for controlling hydraulic power.
Butzke says hydraulics and the associated controls are the keys to operation, and engine output is almost irrelevant. Even so, he says, one element of engine design is crucial to profit and production: emissions compliance methodology. "Our 2002 engine design was created with Tier 4 Final in mind," says Butzke. "There's no aftertreatment needed on JCB engines up to 74 horsepower, and engines above 75 horsepower require only DEF [diesel exhaust fluid]. Importantly, none of our backhoes requires a DPF [diesel particulate filter]." He says other manufacturers resort to DPF on high-output engines out of necessity. "Aftertreatment becomes a factor if it increases downtime to accomplish regen or costly filter replacement."
Operator environment
Brenton points out that "maybe more so than with any other product line, backhoes take an automotive approach to operator comfort." Case has new cushioning on its air-ride seats and new premium-level heated, air-suspension seats with multi-colored, hand-stitched fabric. Drivetrain improvements yield an automotive feel and response, "which is especially important for owners who do a considerable amount of roading of their backhoes."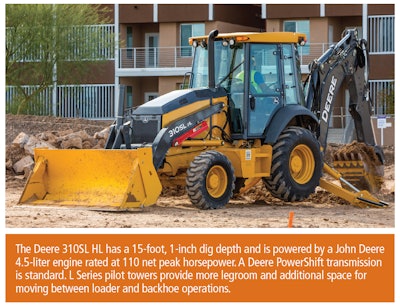 The two Super models in the JCB lineup have heated, air-suspension seats as standard equipment. Floors are composite rather than a rubber mat over steel, making cleanout easier. A storage box in the cab is cooled with an air conditioning vent, and JCB even offers a coffee maker option. "The take rate is low, but it demonstrates our commitment to operator comfort," says Butzke. A block heater is standard on all models with cabs, and an auto preheat feature uses a 110-volt current to warm both the engine and the cab prior to startup.
On the M62 and L47, Kubota mounted the IntelliPanel instrument panel on the right-side fender where it can be viewed with a glance from either operator's position. "There's no need to turn 180 degrees while operating the backhoe to see such things as fuel level, engine rpm or operating temperatures," says Jeff
Jacobsmeyer, construction equipment product manager at Kubota.
New Holland C Series backhoes feature intuitive loader levers and improved storage.
"Performance isn't tied to just the machine's performance," says Boufford. "It also depends on the operator's ability, so minimizing fatigue and maximizing comfort are key considerations."
Workstations
The loader joystick on Case backhoes has three new switches. A declutch trigger simplifies operations for repetitive tasks, such as loading trucks. A roller/rocker switch with a detent can be locked in the forward position for use with attachments such as brooms and snowblowers. And a new F-N-R switch provides quick, easy directional changes while the operator's hand remains on the joystick. Case added enhanced roller switches on the backhoe joystick to provide more intuitive control and better metering of the auxiliary hydraulics and the Extendahoe feature.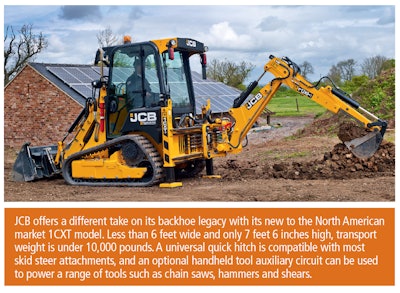 Caterpillar offers integrated toolcarrier couplings on the loader end and either hydraulic or mechanical couplings on the rear, depending on the model. Electronic loader controls use positional sensors to effectively provide parallel lift from a single-tilt machine. As mentioned, Cat's dual control feature allows both joysticks to be active regardless of seat position. Examples of how this would work would be to lower the boom for clearance while in the forward position or to raise the loader bucket from the rear operator's station to reposition the machine while trenching.
JCB uses four cylinders on the loader, for arm up and down and for bucket tilt and dump. Butzke says this yields higher breakout forces, and the lack of a center cylinder improves operator visibility. On the rear, the boom and dipper are the same length. This allows the bucket to get up to 3 feet closer to the cab than with a boom and dipper of unequal lengths, and it reduces the amount of repositioning required during trenching, all without the cost and complexity of an extendable boom.
The loader grip on John Deere machines can enable a quick-shift mode that drops one gear and quickly upshifts again. This is handy for such applications as loading and stockpiling. Pressing a button enables thumb roller control of a multipurpose bucket. There's also a proportional auxiliary roller control at the rear. The 310SL HL, 410L and 710L models sport integrated fingertip controls that eliminate floor controls. A trimmer pilot tower, which opens up more cab space, is among the design changes for L Series models.
Kubota M62 and L47 now accept certain Kubota compact excavator buckets. Both models also feature a lever-actuated backhoe crawling mode to allow creeping forward or backward while the operator remains at the backhoe control station.
One thing
What one thing do OEMs think differentiates their backhoes from others?
Case PowerLift made big improvements to the lift and craning capabilities of the company's backhoes, says Case. It took the same approach in developing PowerBoost, which provides a momentary increase in hydraulic power. It does this with no reduction in engine rpm, which would affect speed and cycle times. PowerBoost is controlled by a button on the left-hand joystick and helps when encountering areas of heavy roots or rock or when making initial break-through on frozen ground.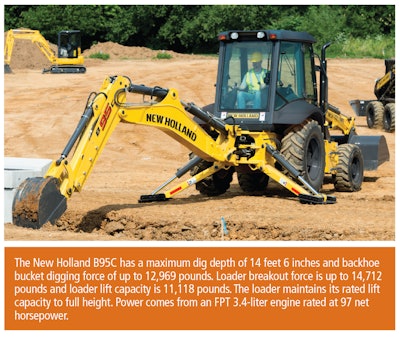 Caterpillar focuses on electrohydraulics as the key to future features. The backhoe loader has been a utility machine for a long time, and Cat wants to enhance its value and versatility. Although the feature set is robust now, there is more to come. Even so, EH will not become universal. There will always be a place for machines with pilot or perhaps even mechanical controls, such as for rental and entry-level customers.
While other OEMs stress hydraulics over engines, Hennings says, Deere pays a great deal of attention to engines as "the heart of every backhoe." All but the 310L EP use a 4.5-liter John Deere engine with wet-sleeve design and replaceable liners for greater durability and enhanced cooling. The 310L EP runs on a 3.3-liter Yanmar engine rated at 69 horsepower. The Tier 4 Interim engine meets Tier 4 Final guidelines through emissions credits. The 310L EP provides customers with a lower-cost, simpler model that requires no aftertreatment system.
JCB has brought innovation to both ends of the backhoe market with the 1CXT, 3CX Compact and 4CX-15 Super. The 1CXT is a tracked version of the 1CX, which was introduced in 1991 but is not available in the North American market. Its small size provides excellent maneuverability, while the tracks give better flotation and traction with lower ground disturbance. The 3CX Compact also fits confined spaces. It has a top speed of 25 mph and is compatible with skid steer attachments. The 4CX-15 Super has four equal-sized wheels like a wheel loader and features three-mode, all-wheel steering.
Kubota models offer the ability to remove the backhoe and install a three-point hitch. This allows such hitch-mounted accessories as box blades, angle blades and mowers. Kubota refers to its backhoe loaders as tractor loader backhoes (TLBs), and this ability to install a three-point hitch together with a standard independent rear PTO shows its commitment to retaining the tractor-oriented characteristics of its models. The Kubota website provides a link to a list of nearly 250 Land Pride performance-matched attachments and implements, from aerators to wood chippers.