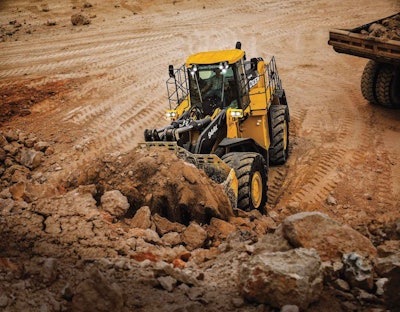 John Deere has announced that it is extending its offer of a 20,000-hour/eight-year warranty on its 944K Hybrid wheel loader by one year.
The warranty covers the machine's power electronic components including wheel motors, generators, power inverters and brake resistors. The warranty is good for 20,000 hours or eight years, whichever comes first. Plus, it is applicable not only to new 944K Hybrid loaders, but also existing 944K Hybrid machines already in the field.
"Since the launch of the 944K Hybrid Wheel Loader, we have reached over half a million hours in the field. Customers trust our machines and components, and they know they can count on our equipment to power through tough and challenging jobs," says Ryan Blades, director of customer and product support for John Deere Construction & Forestry. "With the extension of the warranty offering, we are giving our customers an opportunity to go through a 15,000 to 18,000-hour machine rebuild without any concern about the longevity or reliability of the power electronic components."
Originally slated to end July 31, 2019, the offer is now extended to July 31, 2020. Deere says certain customer conditions must be met to maintain warranty coverage. This includes component rotation between 15,000 and 18,000 hours; drive voltage cables replacement between 15,000 and 18,000 hours; and an annual dealer machine inspection.
The 944K Hybrid is equipped with an EPA Final Tier 4 engine delivering 536 horsepower. Read more about it here.