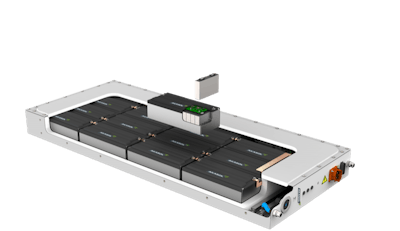 Darmstadt, Germany-based electric systems company AKASOL is planning a production facility in metro Detroit with production slated to begin next year.
AKASOL, founded in 1990, is Europe's largest supplier of battery systems for commercial vehicles and buses with hybrid or all-electric drives and is a leading manufacturer of high-performance, lithium-ion battery systems for buses, commercial vehicles, rail vehicles, industrial vehicles, ships and boats.
In the construction segment, AKASOL has applications for emissions-free mining equipment. Schulde noted mine operators can reduce overall costs because "they don't need all that air-cleaning equipment in the mine" since EVs aren't leaving emissions behind.
According to a case study commissioned by AKASOL with GoldCorp, Inc., operators can save 7,500 tons of CO2 per year, more than 750,000 gallons of diesel, more than 250,000 gallons of propane and 35,000 megawatt hours of electrical energy in a typical mine.
The Hazel Park, Mich., facility, which will support growing demand from domestic and international customers, will be a multi-million dollar investment over the next five years and create approximately 200 jobs.
AKASOL's new Michigan production site will have a capacity similar to the company's current site in Langen, Germany. Initial production, which is set to begin in mid-2020, will focus on the second generation AKASystem OEM PRC battery system, with high energy density cylindrical cell battery systems following soon after.
The company's commercial customers include the likes of Daimler Trucks, Ford Otosan, MAN and Volvo.
By 2021, AKASOL expects production to have increased to 400 MWh in a three-shift operation.
Stateside, the facility will support Volvo's Nova Bus unit with eyes on expanding as U.S. fleets further embrace electrification.
AKASOL President Roy Schulde expects the North American trend in commercial electrification to follow those in Asia and Europe, with buses, refuse and medium duty delivery leading the way.
"When you look at similar duty cycles, with defined routes like with transit buses, that equates to what you would see in delivery trucks," he says. "As the battery energy density increases and the cost per KWh decreases, we may be able to meet the requirements for heavy duty Class 8 long haul."
AKASOL is currently developing its high energy cylindrical cell based battery system to boost energy density per pack. Cylindrical cells, Schulde says, provide a higher overall energy density at the module and pack levels.
AKASOL is already active in speaking with North American commercial vehicle OEMs, and Schulde says the company's battery system has been deployed on Mack's electric LR refuse truck, which debuted earlier this year.
The company might not yet be a household name like some consumer EV manufacturers, but Schulde says AKASOL's advantage is their experience in commercial battery systems and not scaling up existing passenger car technologies.
"Commercial vehicle battery systems have longer term durability and higher cycle life requirements," he says. " There's different chemistry involved in the cells for the batteries used for passenger cars and commercial trucks."