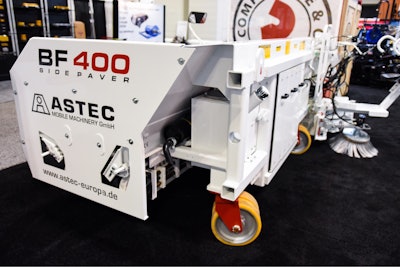 Barry Ruffalo has been appointed the new president and CEO of Astec Industries, parent company of Roadtec and Carlson Paving.
Richard Dorris, who will serve as interim CEO until Ruffalo starts his new job August 12, will return to serving as chief operating officer.
Dorris has been interim CEO since January 21 when Benjamin G. Brock resigned abruptly. Brock is the son of Astec co-founder Don Brock and became CEO in 2014. Don Brock died in 2015.
Ruffalo comes to Astec after serving as group president since 2016 for Valmont Industries, a global producer of fabricated metal products. He was promoted to that position after serving for a year as executive vice president of operational excellence. Before that, he was president of global infrastructure for Lindsay Corporation, where he worked for eight years. From 1996 to 2007, he was with Case New Holland. He has a Master of Science degree from the University of Wisconsin-Madison.
"After a comprehensive search that included a number of highly qualified candidates, we are excited to hire Mr. Ruffalo," said Bill Gehl, chairman of Astec. "Barry brings a wealth of experience to Astec. He is a leader that has driven change, understands infrastructure and will add tremendous value."
"I look forward to moving forward with measures to make Astec more profitable and agile while building on the strength of its world-class products," Ruffalo said.