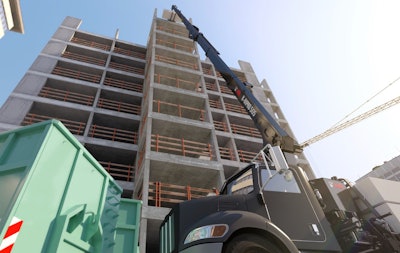 With a reach of nine floors and a lifting capacity of nearly 300,000 foot-pound force, Hiab has launched the K-505 HiPro in the U.S. and Canada.
Hiab's longest and strongest drywall crane to date, the K-505 HiPro is also the company's heaviest. The crane comes standard with remote control and features a Load Stability System for vertical movements, Variable Stability Logic and Automatic Speed Control.
Marcel Boxem, Hiab's Heavy Range director, says the technology features on the K-505 HiPro allow even less-experienced operators to operate the crane smoothly and precisely.
Hiab says the K-505 HiPro, like all of its drywall cranes is "connected and prepared for the future, as connectivity enables the company's connected services like HiConnect.
"As it's connected, fleet owners have the option of receiving performance data to optimise their vehicle fleet and service alerts based on actual usage," Boxem says.