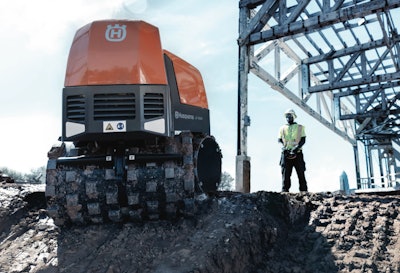 Trenches are dangerous. Running a compactor in a trench is even more dangerous. With its new LP 9505 remote control trench compactor, Husqvarna says it has a solution that will both keep your people out of the trench and boost compaction productivity.
A radio-actuated remote control guides the unit and is worn on a belt around the operator's waist. You can run the machine down a ramp into the trench, or a single lifting eye allows you to place it with a crane.
The LP 9505's weight (3,693 pounds) enables you to achieve compaction without vibration. It's powered by a 24-horsepower Kubota engine.
Articulated steering enables the unit to turn corners without churning up soil underfoot. And the extra wide, 1-inch high drum pads are designed to give you secure traction in wet or dry cohesive soils.
The drums measure 33.5 inches wide and 20.6 inches in diameter and optional drum width extensions are available.
The articulation joint locks for transport and a locking compartment integrated into the hood provides battery access and storage for the remote control pack. The fuel tank holds 7.9 gallons of diesel, enough for 8.6 hours of work.