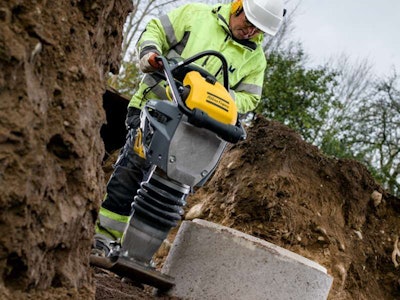 Sweden-based Atlas Copco will divest its concrete and compaction business to Husqvarna Group's construction division.
About 200 employees will join Husqvarna Group, which is a Swedish manufacturer of outdoor power products for consumers, as well as cutting equipment and diamond tools for the construction and stone industries.
The planned divestment will allow Atlas Copco's Power Technique business area to better focus on its core technologies of air, power and flow, the company says. The products of this area include plate compactors, tandem rollers and concrete vibrators, among complete ranges for concrete and compaction.
The transaction price was not disclosed. The divestment is subject to regulatory approvals and is expected to be completed during the first quarter 2018, Atlas Copco says.
"Our commitment to the construction industry remains as strong as ever; moving forward we will have a more streamlined product portfolio through which we can more deeply focus our resources to add further innovation and productivity for customers," says Andrew Walker, president for Atlas Copco's business area Power Technique.
Atlas Copco's freshly branded Power Technique business area provides mobile compressors, pumps, light towers and generators, along with complementary products. It also offers specialty rental and provides services through a global network. Power Technique serves industries including construction, manufacturing, oil and gas and exploration drilling. The business area is headquartered in Belgium.
Atlas Copco's strategy is to expand its market position and presence as a global supplier within portable compressors, pumps, generators and light towers, along with a range of complementary niche products, such as high-pressure boosters. The strategy includes further development of specialty rental services as well as offering more services to more customers, according to the company.
The pending transaction with Husqvarna includes the production facility in Ruse, Bulgaria and production assets in Nashik, India, along with sales and service operations worldwide, the company says.
Atlas Copco Group completed another divestiture in October 2017, when Fayat completed it acquisition of Atlas Copco's road construction equipment division, known under the Dynapac brand. Earlier in the year, Atlas Copco had announced it was divesting the group that makes rollers, pavers and planers.