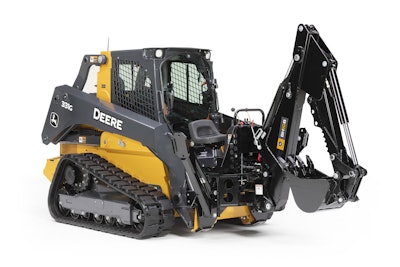 John Deere has introduced three new backhoe attachments for use on skid steers and compact track loaders, allowing operators to dig in tight spaces and up to 11 feet deep.
The new attachments include the:
BH9B: 110 inches (9 feet, 2 inches) of maximum dig depth, and 3,895 pounds of breakout force
BH10B: 116 inches (9 feet, 8 inches) of maximum dig depth, and 5,675 pounds of breakout force
BH11B: 133 inches (11 feet, 1 inch) of maximum dig depth, and 5,675 pounds of breakout force
All three attachments include 9-12 gallons per minute of hydraulic flow range. The BH10B and BH11B feature three linkage positions which can be used to maximize curl, reach or breakout force.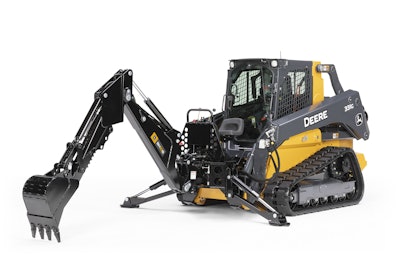 The attachments feature two-lever control with boom or swing on the left lever, and dipper stick or bucket on the right.
"With the growing need for work in compact spaces, these new backhoe attachments provide contractors, landscapers and agricultural material handlers with the power and variety to tackle any job efficiently and swiftly," said Jason Simmons, attachments engineering supervisor, John Deere Construction & Forestry.
For those tight spaces, the attachments feature swing speed control and 180-degree capabilities. For high visibility, the attachments feature a sleek design.
The backhoe standard-tilt seating capabilities offer easy moving between machine ingress and egress.