Continuing its launch of new mining excavators, Hitachi has unveiled the smallest of its new EX-7 series, which it says can also serve as a crossover machine for the construction industry.
The EX1200-7 achieves a 6-percent improvement in fuel economy over the Dash-6 model and has a 4.5-percent increase in bucket capacity, to 9.2 cubic yards.
Along with mining operations, it can be used for large-scale excavation, Hitachi says. It is also available in backhoe and shovel configurations. In backhoe configuration, it has a max dig reach of 50 feet, 4 inches, and a dig depth of 30 feet, 9 inches. In shovel configuration, the dig reach is 27 feet, 9 inches, and dig depth is 15 feet, 8 inches.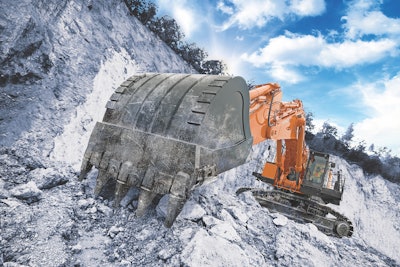 The EX1200-7 has an operating weight of 260,000 pounds and is powered by a 760-horsepower Cummins Tier 4 Final engine, which requires no diesel exhaust fluid. The engine contributes to fuel efficiency through "fuel-calibration optimization settings," the company says. The excavator also features auto-idle, which reduces engine speed when in neutral.
Further aiding fuel economy is an improved hydraulic system equipped with a flow regeneration valve that reduces power demand on the hydraulic system and engine.
Hitachi also made the cab more comfortable, with a weight-adjusted cushioned seat. Operators can customize the seat's suspension settings. Hitachi also reduced shock and vibration by resting the cab on six-point, support type, fluid-filled elastic mounts.
The cab is pressurized and has climate-control air conditioning. The multifunction display screen has an LED backlight to reduce glare.
Options include a sun visor and roll screen. Customers can also choose Hitachi's Aerial Angle for 360-degree visibility through cameras positioned around the excavator.
Another option for the EX1200-7 is an auto-lube system for a bulk excavation front attachment that supplies grease to the superstructure as well as the bucket pins. Hitachi redesigned the system with a large grease tank, new grease pump, in-line grease filter and breather with filter, the company says.
Other features on the excavator include three single-sided upper rollers on each side of the track frame to maintain track-shoe clearance and reduce debris buildup; welded boom and arm to evenly distribute stress; and an underslung, low-bend configuration of the front attachment hoses that eliminates the need for clamping.