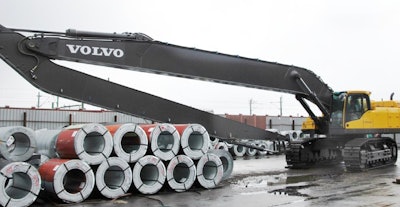 Volvo Construction Equipment (Volvo CE) says it will buy application partner CeDe Group, which is headquartered in Malmo, Sweden.
The purchase price was not disclosed for deal, which is expected to come into force by mid-March and include intellectual property, operations, other assets and staff of circa 45 full-time employees, a press release says.
"This acquisition makes sense on a number of strategic levels," Volvo CE president Melker Jernberg says. "CeDe has already proven that it has a depth of engineering talent in adapting our machines for specialized applications. This closer relationship will allow Volvo CE to grow our product offerings while at the same time boosting CeDe's ability to expand into new markets and segments, both with Volvo CE and its other OEM customers."
CeDe Group has a good reputation in Scandinavia as a low-volume adaptor of construction and mining machinery for special applications, Volvo CE says.
Working for several leading OEMs, including Volvo CE and its dealers, adaptations include developing new bodies for haulers, such as fuel, water, waste. Adaptions also incluce rail conversions for wheeled excavators, as well as conversions for underground mining applications etc.
Under Volvo CE ownership, the vision is that CeDe will remain a standalone business, the Volvo release says.
It continues: "Volvo CE will make available its considerable competences to the company and add additional resources to allow it to expand its market reach and customer bases, becoming a European leader in this specialized field.
"A strengthened partner will also support Volvo CE's objectives of expanding its product offering into new segments and applications, as well as providing a partner who can deliver low volume prototypes and production runs.
"The company will continue to provide and expand its engineering services to non-Volvo CE customers," it says.
CeDe was formed in 2000 and can trace its roots back to Volvo's original excavator business, Volvo says.
"With our already long and good relationship with Volvo CE and deep understanding of its products, we are excited at the opportunities to develop our services and expand our reach into new markets," says CeDe Group CEO Krister Johnsson.
As the annual volumes produced are relatively low, the deal will have no material effect on the income or financial position of Volvo CE, the company says.
The deal comes as Volvo CE looks forward to another strong year after a record-setting 2018, which saws a sales soar of 27 percent in what the company has deemed its strongest year ever.
It's also a ground-breaking time in other ways with the recent announcement that Volvo will step away from diesel power on at least some small loader and excavator models to launch at least 10 electric machines by 2020.