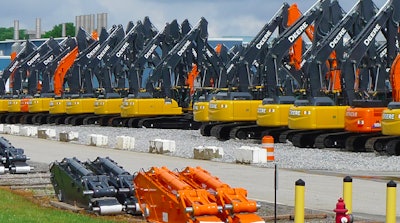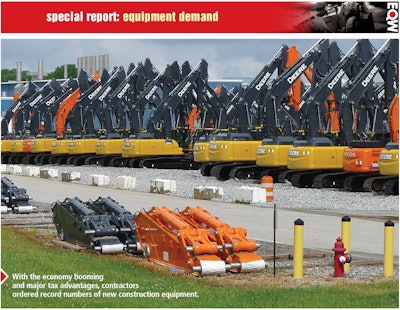 Equipment demand is up, prices are up, and supply is constrained. Don't look for that to change anytime soon, says Eli Lustgarten, but there are developments on the horizon worth keeping an eye on.
A Wall Street analyst for 45 years, Lustgarten has covered a broad group of industrial companies in the heavy equipment, farm, fluid power, and electrical industries, as well as the heavy truck industry. He still speaks on these topics to organizations like the Association of Equipment Manufacturers, Associated Equipment Distributors and the National Fluid Power Association.
What's driving demand?
Despite the slowly recovering economy, business went soft in 2016. As we entered 2018, profits were up, taxes were lower, and contractors got a new tax benefit of 100 percent depreciation on capital expenses. So with the economy booming and major tax advantages, contractors ordered record numbers of new machines.
"Our forecasts are for machine shipments to be up 10 to 15 percent this year and 5 to 15 percent next year," says Lustgarten, "if they don't muck things up."
Compared to the past 10 years of slow growth, a strong demand and a strong economy seem like welcome relief, but they do pose a problem for OEMs. Most can handle 10 or 15 percent growth, but they can't ramp up fast enough to take production up 20 or 25 percent. And they don't want to take it that high and have to cut back suddenly, says Lustgarten, so most are already at full capacity and unlikely to increase it.
What's driving price increases?
High demand and low supply naturally drive up prices, but there are plenty of other factors boosting them as well.
Some OEMs have downplayed the impact of tariffs on prices, but the impact will be felt regardless. "It depends on the type of equipment, but 40 percent to two-thirds of the cost of a piece of equipment is material, and steel can be half of that," says Lustgarten. "Material prices are going up, and nobody knows when that will end."
In addition to tariff-related increases, commodity prices are on the rise. Commodities have been depressed for seven years and down cycles tend to be long term, but most of the damage is done in the first five years, says Lustgarten. "So we've seen the worst of it. Copper used to be $4.50 a pound. It went to $2, and now it's between $2 and $3, but you're not going back to where it came from. Prices are clearly going up." The price of oil is also up, and coal has stabilized, adding additional pricing pressure on equipment.
A third factor related to increasing prices is the component business. The heavy equipment manufacturers aren't the only businesses that use bearings, axles, engines and hydraulics. Other industrial companies compete against heavy equipment manufacturers for these products, which raises their prices as well.
With all this upward pressure on prices, contractors face a difficult choice. Do they get in line and get their orders in now, or hope that prices plateau or ease off in the next two years?
Headwinds
In September, the Federal Reserve raised interest rates and indicated it would do so again. That's going to be the biggest drag on economic growth, says Lustgarten.
Residential building is also a concern. "It's up modestly, but relatively slow," says Lustgarten. "You're seeing permits below starts."
Nonresidential construction is better, but not great. "The biggest disappointment is that there is no infrastructure program. If you want to have 3-plus percent growth next year, you're going to need an infrastructure bill," Lustgarten says. "Otherwise, all the forecasts for 2020 are back down to 2 percent growth."
Given those factors and the slowdown in growth worldwide, Lustgarten anticipates 2019 will be a year in which equipment shipments will be greater than equipment orders. Right now, most orders are backlogged, and you're not going to see much order cancelation, he says. "But if things start to slow and the OEMs are still pumping out iron and build inventories, that would be the issue that changes pricing."