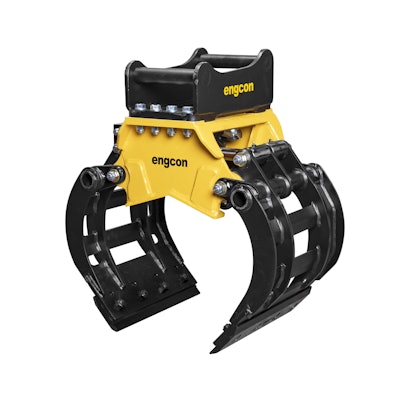 Designed for mini excavators and featuring a bolt-on design that adapts to the existing hitch on your machine, Engcon has introduced the new SK02 sorting grab.
Weighing in at just 240 pounds and with a width just under 16 inches, the grab is designed for excavators in the 1.5-3 metric ton size class and can be used with a tiltrotator attached. The SK02 has bolt-on cutting blades, prepared for digging teeth, and can be delivered with side cheeks so it can also be used as a clamshell bucket.
Engcon says it designed the SK02 for its customers who find its SK05 grab too large for their machines.
"Our philosophy is that we will provide the best and most reliable tools that can be attached under a tiltrotator. Our new sorting grab fits our customers' needs very well," Johan Johansson, design engineer at Engcon, says in written statement.
Robert Hunt, managing director of Engcon UK says the company expects high demand for this attachment in the UK. "The majority of excavators sold each year in the UK are mini diggers, which is a much bigger market share for minis than many other countries," he says.