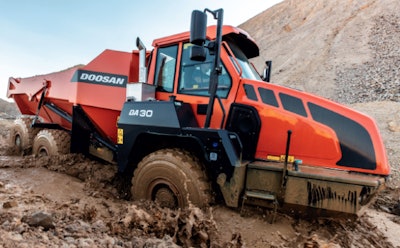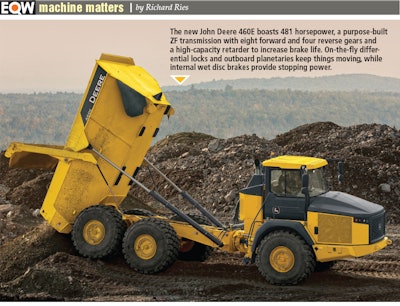 Why has the capacity of articulated dump trucks seemed to have plateaued at the 60-ton level? "It's simple physics compounded by the conditions in which an ADT typically operates," says Aaron Kleingartner, marketing manager, Doosan Infracore North America. There are limits imposed by how the load is carried, especially weight shifts and balance as the trucks turns, he adds.
Tires are another limiting factor, says Rob Palermo, Volvo Construction Equipment. Tire scrub and sidewall damage are multiplied as payload increases. Could tire manufacturers design and build tires for 80-ton ADTs? Maybe. But, says Palermo, "no one's asking for bigger trucks, so there's no real pressure to develop tires to accommodate greater payloads." He says customers who need big trucks are well served by current offerings. At quarries and pits, for example, "customers are just happy they can use the same 60-ton truck for removal of overburden and the subsequent production process."
Not all ADTs spend their entire lives at one location, as do those at quarries and pits.
"Larger projects with condensed deadlines require larger trucks or more trucks or both," says Frank Nyquist, product marketing manager, quarry products, Komatsu America. "There's just no way around that. But once the job is done, ADTs get loaded onto trailers and shipped to the next jobsite." Nyquist says the ease of transporting trucks can be just as big a consideration in model choice as the tasks those trucks will be required to perform.
"It often comes down to mobility and transportation," says Scott Thomas, senior product application specialist, Caterpillar. "That's where it gets difficult to increase capacity." He says it's not just the truck that must be transported, but also the loading tool, typically a hydraulic excavator. "Moving an excavator big enough to provide a good pass match with a big ADT is not as easy as moving the truck. This can have a big influence on ADT sizing as both machines must be moved from site to site."
More in the middle
The spotlight has moved from the biggest trucks back to those in the middle. "Our experience is that the shift away from smaller trucks, up to 30 tons, to larger trucks of 40 tons or more has stabilized," says Robin Pett, product manager, Bell Equipment North America. "While larger trucks can have a cost-per-ton advantage, there are practical limitations to them." He says some worksites won't accommodate large trucks. If a site has a set tonnage production for a month and that quota is less than a fleet of 40-ton trucks would provide, it makes sense to have smaller trucks.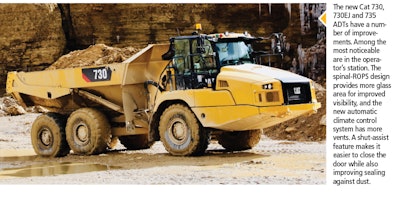 The single-rear-axle, dual-wheel design of Bell's B60E has been adopted for use in the B30E 4×4. "This two-axle machine still has an oscillation joint that keeps all wheels on the ground, allowing the 4×4 drivetrain to do its job," says Pett. "But the shorter design improves maneuverability and minimizes tire scuff while cornering."
Cat's newest models are the 730, the 735 and the ejector-body 730EJ. These will feature the new cab design that debuted in 2017 at ConExpo on the 745. Several features will make the trucks easier to operate, including automatic retarding control, stability assist, hill start, wait brake, assisted hoisting and directional shift protection.
Doosan's newest truck is the DA30-5, which has a new front axle to enhance payload and handling performance and includes improvements to the cab and telematics. Much of the focus is on making the trucks easier for less-experienced operators to manage. "The ADT is more like the truck they drove to work," says Kleingartner. "This is not to say you can walk in off the street and operate the truck efficiently. It still takes years to become a master operator."
Maryanne Graves, ADT product marketing manager, John Deere, says interest remains strong for smaller trucks. Deere's newest are the 260E and 310E, and sales have been solid. Rigid-frame trucks are better for large sites with improved haul roads, but nothing takes the place of an artic at smaller, tighter sites, according to Graves. Deere says hardware improvements yield a 125 percent increase in retardation capacity and an automatic differential lock that provides both cross-axle and interaxle diff lock options.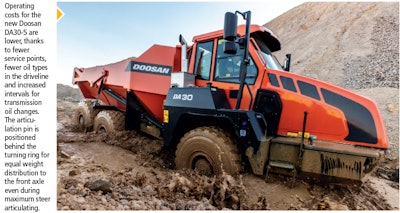 As for advanced features, "machine health and technology are the hottest areas of growth," Graves says. The Ultimate Uptime package features John Deere's WorkSight equipment management program to optimize site operation efficiency and five years of JDLink telematics, machine health prognostics, remote diagnostics and programming capabilities.
When selecting which of their two ADTs to update, Terex Trucks chose the smaller, 30-ton TA300. While the update includes a number of refinements, the biggest change is the inclusion of a ZF EP320 transmission as standard. Terex and ZF worked together to develop the transmission and part of the development process included two years of testing in controlled and real-world environments. The EP320 has eight forward and four reverse gears yielding top travel
speeds of 34 mph, up from 31 mph in the previous version. The transmission is also credited with providing a 5 percent increase in fuel efficiency.
Age of specialization
The ability of an ADT with all-wheel drive and locking differentials to navigate challenging terrain is useful for more than dump operations. There are upfitters and body builders that will create almost anything for the back of an artic chassis. Some OEMs offer the artic equivalent of a chassis-cab and some offer specialty bodies. Caterpillar has the 725C2 and 730C2 available as bare chassis and configured as a water truck, service truck or other. Volvo's Special Applications Solutions can also configure specialty bodies, and there are several styles of trailers available. Bell sells short- and long-frame ADT chassis cabs and has their VersaTruck program to provide specialty bodies.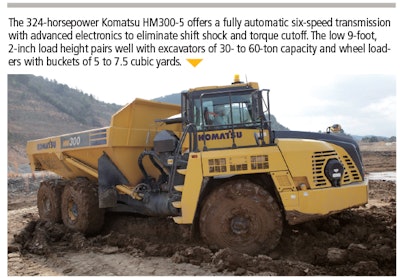 ARDCO offers customization of their trucks. The four-wheel, 10-ton AMT 400 and six-wheel, 20-ton AMT 600 are intended to be matched with bodies to meet customers' needs. Yes, there is the standard dump body, "but we're not a direct competitor to the 25-plus-ton trucks," says Tim Niedzwiecki, sales engineering manager. "We do have customers tell us they were looking for smaller ADTs when they found us," but their niche is specialty trucks. ("AMT" stands for "articulating multi-purpose truck.") ARDCO offers more than a dozen specialty bodies plus technical assistance to customers who want to build their own custom bodies or turn to local fab shops for that task.
While some customers buy an AMT with a body that stays on all the time, others swap bodies as needed to increase utilization rates. Typical body weight is 4,000 to 6,000 pounds, so equipment with a lift capacity of 8,000 to 10,000 pounds is all that's needed. Attachment points and bolt patterns are the same for all bodies; hydraulic and electrical lines use quick-connects. And despite a Spartan appearance, both models have LED exterior lighting and ROPS cabs with climate control, digital gauges, Bluetooth audio and a 68-decibel sound level.
Manufacturers are also beginning to offer ADTs with lower ground pressure and less disruption and compaction of soil. This can seem counterintuitive since photos from OEMs routinely show their ADTs bravely charging through heinous conditions, often up to their belly pans in muck and mud. But that doesn't mean it's the preferred method of operation. Residential and golf course developments and large landscaping projects are among the target markets for these trucks. ARDCO offers several tire choices, including sand tires, and the AMT 600 comes standard with 66 x 43.00 terra tires.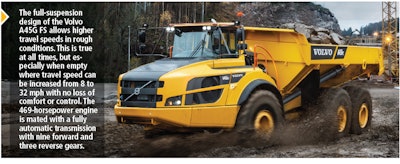 The "LGP" in the nomenclature for the Bell B20E LGP is for "low ground pressure." These trucks are designed for oversize tires. The big tires on standard ADTs have to work within the confines of frame rails, dump cylinders and other components, and upsizing stock tires is usually difficult to impossible.
The one thing
Because ADT customers are sophisticated in their purchasing and operation strategies, we asked our sources what one thing they'd offer customers to help them get the most from their articulated dump trucks.
Tom Leahy, ARDCO vice president and general manager, says to make the most of the versatility offered by its trucks, "customers need to analyze their applications on an annual basis. What will this truck be doing throughout the year?"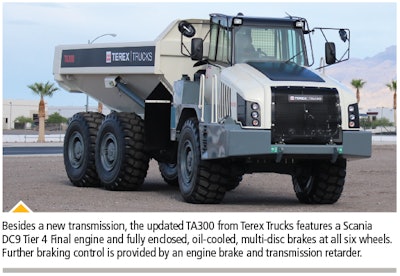 While saying U.S. customers are savvy, Pett contends they could still get more value from telematics. "This data can help them reduce idle time, increase uptime and spot areas where the need for additional operator training is indicated," he says.
According to Thomas, the "tendency is to put a warm body in the seat and expect superior results," when superior results require superior training. Cat offers three levels of operator training that can be performed by the company or its dealers.
And customers need to carry the mindset used in production applications to other places their artics are used, says Kleingartner. "The same thought processes and considerations that maximized efficiency in production settings should be applied in other environments to derive peak value."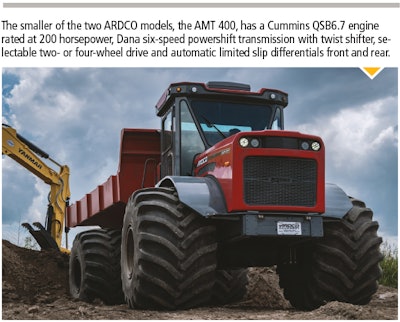 Nyquist advises contractors to "step back and consider the whole cycle, from loading to travel to dumping to returning to the loading site." Completing the maximum number of cycles in a day yields the most production, but a full-throttle style may not be needed for this to happen and only increases costs without yielding a proportional increase in production.
Finally, make an effort to correct bad operator habits. "Gaining a half-gallon per hour in fuel efficiency through technology and design can cost millions of dollars," Palermo adds, "but an aware operator can produce 20 to 30 percent gains in fuel efficiency for only the cost of training."