Hydraulic breakers, thumb kits, compaction wheels and quick couplers are among the attachments designed to extend the uses of your backhoe.
Here are some recent product releases geared toward backhoes for breaking, grabbing, backfilling and quickly changing attachments:
Grease continuously, automatically applied
Okada offers the 13-model OVR Series of hydraulic breakers, ranging from 150 to 12,000 foot-pounds of force. The breakers feature variable speed control, and a large capacity accumulator to reduce shock load. A carrier-mounted auto-grease system continuously applies grease to the breaker tool and bushings, and the central grease port adapts to most auto-lube systems. A large nitrogen-gas chamber allows for high impact power. Along with backhoes, the breakers are compatible with skid steers, excavators and track loaders.
---
Thumb kit made for Extendahoe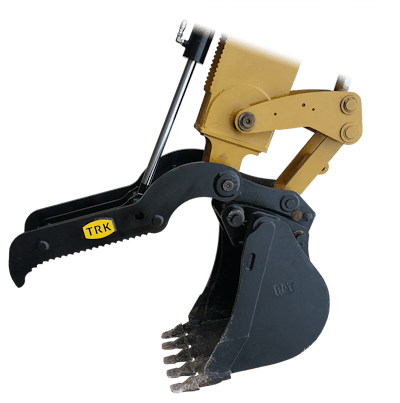 TRK Attachments designed a thumb kit specifically for Caterpillar's 416, 420 and 430 E/F Extendahoe backhoe loaders. They are available for backhoes with or without a quick coupler. Customers can choose between manual or hydraulic versions. They are made of T1 and AR400 steel, have a new main long pin for mounting and see-through plating between the tines. They come with the jump hoses needed for the stick's hydraulic fittings. They are designed to clear the boom and stick at all points and mesh with the teeth on a stock Cat 24-inch bucket.
---
Converting recoil to reusable energy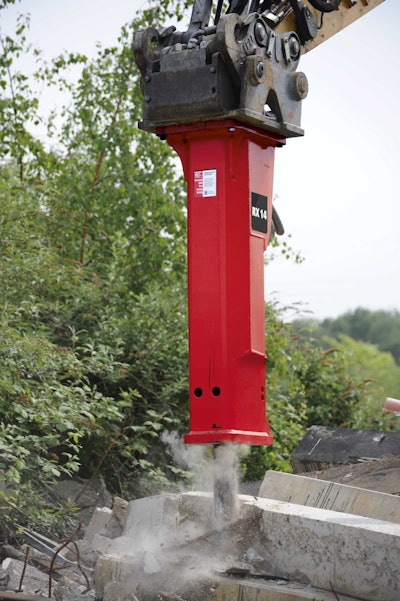 Epiroc designed its RX hydraulic breakers to convert recoil energy to reusable energy to deliver more power with the same amount of hydraulic input. The breakers' box guiding system also minimizes recoil forces to put less strain on the carrier, operator and breaker. The RX line consists of 14 models for carriers ranging from 2,900 to 155,000 pounds. They are compatible not only with backhoes but with skid steers and excavators and can be used for demolition, landscaping, building renovation, road construction, rock excavation and quarrying.
---
Compaction while backfilling trenches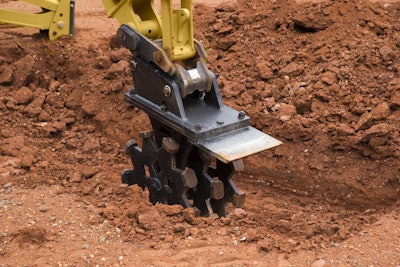 Cat Compaction Wheels are designed to compact the soil when backfilling trenches. They come in a variety of widths and feature tapered roller bearings. A tampered-foot design with static pad rollers provides smooth operation and a high degree of compaction. The open rim allows the wheel to penetrate the trench fill and compact the soil from the bottom up. The compaction wheels are available for all Cat backhoe loaders, as well as all Cat compact excavators.
---
Quickly switch buckets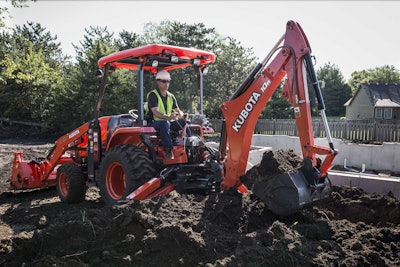 Kubota's K7543 Quick Coupler is designed for fast bucket changes for the company's tractor-loader-backhoe (TLB) series. It is compatible with the L47 and M62 TLB models. The coupler is also compatible with select Kubota compact excavator buckets, tilt buckets, grading buckets, trenching buckets, grading blades, cemetery buckets, frost rippers and excavating rakes.
---
Low recoil, few moving parts
Case Construction Equipment's hydraulic hammers have only two moving parts and isolate every blow from the operator and carrier. The hammers are pre-assembled and made for Case backhoes, excavators, compact tractor loaders and skid steers. The blows are isolated in the cushion chamber, and recoil energy is recycled and used for the next blow. The long-stoke piston facilitates energy transfer and recoil reduction. Case hydraulic hammers come with a gas recharge kit and a three-year warranty.