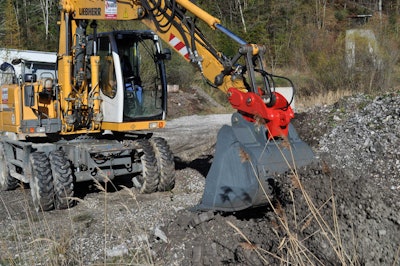 Solesbee's new hydraulic Quick Coupler allows excavator operators to switch attachments without leaving the cab and has a two-part connection system for added locking force and safety.
The Kinshofer subsidiary's new coupler is designed for excavators with operating weights of 2,200 to 220,000 pounds. The company says it pairs easily with buckets, rippers, rakes and mechanical grabs, as well as demolition, forestry and land-clearing attachments.
The first of the coupler's two-part connection occurs when the coupler's safety knuckle automatically attaches to the attachment's front pin. The connection can only be released by the operator, who uses a push-button remote control. The second connection occurs when the self-adjusting wedge locks the rear pin as soon as the lock switch is deactivated.
To disconnect the coupler, the system first unlocks the wedge lock from the rear pin and then the safety knuckle. The operator can set the auto-lock feature to between 5 and 12 seconds. If the coupler isn't disconnected within that time period, it automatically reattaches. Once it is disconnected, the safety knuckle automatically prepares to connect to another attachment.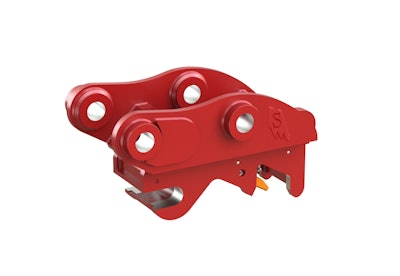 The remote control sounds an alert to notify the operator when the wedge and safety knuckle are open or closed. It also uses LED lights and a beeping signal to show whether or not the wedge has attached to the rear pin.
The system has a safety device on the rear lock to prevent the wedge from disconnecting from the attachment in case of hydraulic failure.
The wedge locks at 1,730 pounds per square inch and unlocks at 3,455 psi. Constant working pressure continuously readjusts the wedge, keeping both pins firmly against the hitch, the company says. To reduce wear on locking components, two pressure-relief valves keep the hydraulic circuit from overpressurizing. The hydraulic system's circuit, two hoses and all other components are enclosed for protection. The coupler is made of high alloy steel.
Solesbee's offers four versions of the coupler: hydraulic pin-to-pin, mechanical pin-to-pin, Nordic style s-lock, and tilt or tilt rotation.
"Improperly connected attachments can lead to injuries and even fatalities," says David Jenkins, president of Solesbee's. "Our couplers prevent this with step-by-step, in-cab controls and specific operator commands that are required to lock and unlock attachments. This not only improves safety but speeds up the exchange process so attachments can be switched in minutes."