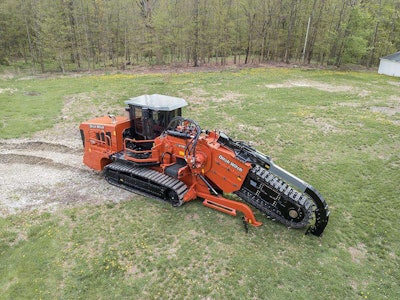 Ditch Witch's new HT275 is the company's largest trencher, able to handle heavy-duty installations of up to 10 feet deep and 26 inches wide.
The company says its tracked trencher can tackle a broad range of jobs, including water, sewer, gas, power and underdrain installations and pipeline distribution.
The HT275 is powered by a 275-horsepower Cummins Tier 4 Final diesel engine – more than twice the horsepower of its second-largest trencher, the wheeled RT125, at 121 horsepower, according to the Equipment World Spec Guide. (Note: the new 2018-19 Spec Guide and Yearbook is scheduled to come out in October.) The HT275's hydrostatic trencher-chain drive allows the operator to match chain speeds to soil conditions.
The company further increased productivity by making it easier and quicker to change attachments. The HT275 features four hydraulic quick-disconnect blocks that allow rear attachments to be changed without heavy lifting equipment. Attachments include a centerline attachment for installations of 4 to 10 feet and 14 to 26 inches wide, and an offsetting, sliding attachment for installations 3 to 6 feet deep and 8 to 24 inches wide, which has an optional truck-loading conveyor.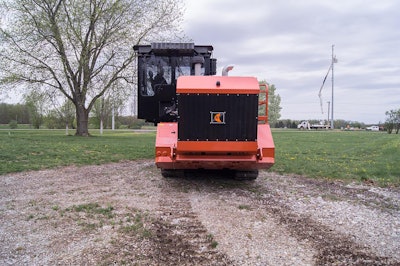 Ditch Witch also improved operator visibility with a power-sliding cab for better views of the stabilizers, cross conveyor, trench cleaner and cutting chain, and with two scratch-resistant external cameras on the far side of the machine and in front. The pressurized, insulated cab features an air-ride suspension seat with 270-degree rotation, climate control, ergonomic joystick controls and dual 7-inch display screens.
The company says the cab is the most spacious in its class size and has a second seat for training sessions.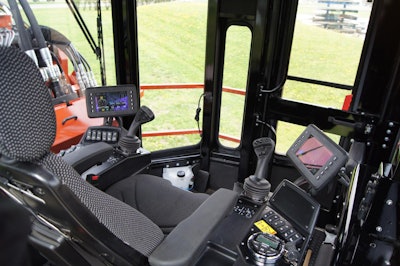 Other features include a patent-pending suspension that mounts to the center of each track frame. An optional track-tilt feature allows each track to move independently, and a "float" mode enhances track-to-ground contact on shifting jobsites, the company says. The trencher's auto-level feature allows operators to dig a completely vertical ditch while keeping both tracks flat on the ground when working on uneven terrain or a side slope.
Daily service and inspections, including slowly advancing the digging chain from ground level, can be conducted via wireless remote so the operator doesn't have to leave the cab. And the one-piece hood fully opens to reveal the engine and all routine maintenance points. The patent-pending track frame can also be easily removed for maintenance.
The HT275 is 102 inches wide, which means it can be hauled on a standard-load trailer without a permit.