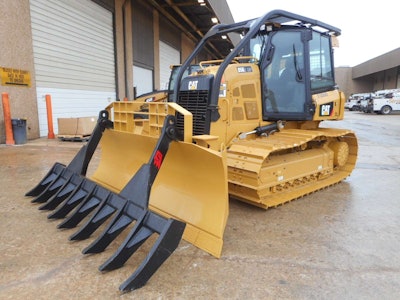 Solesbee's new Blade-Mounted Dozer Rakes will fit nearly any dozer blade without customization, the company says.
That's because the rakes have an extended upright with multiple holes to line up with the dozer blade when mounting. The company also provides all the pins and brackets needed for mounting.
"A qualified welder can install the brackets on the dozer in as few as two hours," the company says. "Once installed, it's easy to manually mount and remove the rake as needed. For added versatility, additional bracket sets are available for use with multiple dozers or when upgrading to a new dozer."
The rakes are made for land clearing, raking brush and piling trees and branches. They feature a C-curve design that rolls brush and debris, which the company says makes it easy to windrow material while minimizing the amount of dirt pushed with it.
The rake is available with a full range of teeth for a variety of debris clearing tasks. The teeth are made of 2-inch-wide hardened steel. Standard tooth size is 20 inches long; optional lengths of 14 to 24 inches are available. The company also offers a variety of teeth quantities and spacing options.
Solesbee's offers a two-year warranty on its dozer rakes and says the products are available to ship to customers the day after receiving an order.