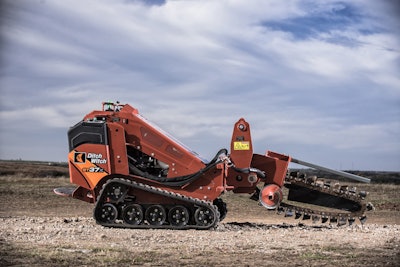 Ditch Witch has introduced its first stand-on trencher, the ST37X, designed for creating footings on residential and commercial sites, in addition to trenching applications. The machine was on display at The Rental Show this week in Orlando.
"You don't have to walk behind it, so you can get over a little more rough terrain," says Chris Thompson, product manager for compact equipment. "It's easier than trying to bring an RT45, a whole size tractor for example, on the job. You can get this on and off a lot easier. But it will dig as deep as some of the larger equipment. An RT45 will dig 48 inches and this will go 36 inches. But if you're trying to dig a French drain, for example, it's a lot easier to get on this and bring it on a jobsite than it is trying to drive a tractor on a jobsite."
In addition to digging 36 inches deep, as Thompson points out, it can trench up to 16 inches wide, being equipped with a 50,000-pound chain and an integrated digging system. It features a multi-position trencher that's centerline to offset digging. This allows operators to trench next to backer board when digging for footings.
The ST37X features 43 inches of track on the ground for stability when cross trenching and is powered by a Tier 4 Final 37 hp Yanmar engine. The spring-supported operator platform is 74 cubic inches in area, which has designed to provide more comfort during long operating hours.