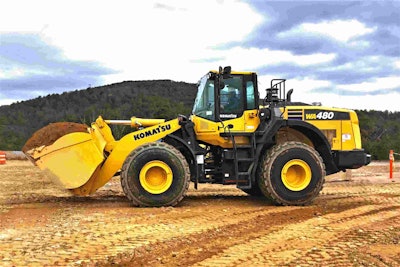 Komatsu has introduced the latest version of its WA480 wheel loader with updates the company says have improved operator comfort while increasing the machine's productivity and fuel efficiency.
The new WA480-8 is powered by a new Komatsu SAA6D125E-7 Tier 4 Final engine. The 11-liter engine delivers 299 horsepower while using 20 percent less fuel than its Tier 3 predecessor, Komatsu says. The engine meets Tier 4 requirements through a diesel particulate filter (DPF) that handles 95 percent of regeneration passively, with no action required of the operator and no interference to operation of the machine.
New controls and improved cab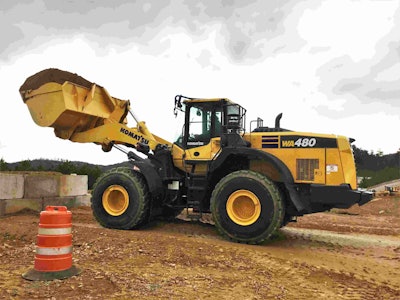 With this Dash-8 machine, Komatsu has removed the steering wheel in favor of a joystick steering system. Komatsu says the stick steering system improves forward visibility, allows the machine to operate at full speed and is a more comfortable control method than the steering wheel.
Inside the cab, operators will find a 7-inch monitor, air-suspension and high-back seat, seat-mounted pilot control levers, aux jack and two 12-volt ports and a separate rearview monitor.
The 7-inch screen displays both integrated loader meter stats and telematics data such as DPF status, DEF level, fuel consumption and operator performance information.
Komatsu has also included a couple of operator assist features that optimize machine performance and can lead to improved productivity. The first is the company's SmartLoader logic. This system combines with the lockup torque converter in second, third and fourth gears to optimize engine torque. The result is improved acceleration, hill-climbing, top speed and fuel savings. The second is the new auto dig system. This system controls bucket tilt and lifting by sensing the pressures applied to the equipment. Auto dig, Komatsu says, can reduce operator fatigue and optimize bucket load.
"The WA480-8 is the perfect tool for quarry, infrastructure and non-residential construction applications," says Komatsu product marketing manager Craig McGinnis. "It's the perfect three-pass loader for on-highway trucks and hoppers."
New bucket design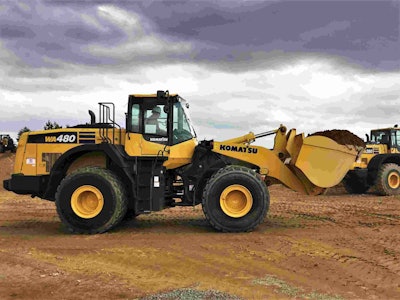 Aiding in the loader's increased productivity is a new bucket design. Komatsu says the design incorporates "generous curves" on the side wall and wrap to improve the bucket's penetration into a pile. The result is a bucket that fills easier and provides better material retention when carrying, Komatsu says.
Serviceability
Access to the engine for daily checks and service items is made easy through gull-wing engine doors. A swing-out rear door and an auto-reversing fan allow easy access to the radiator. Regeneration components can easily be accessed through hinged panels on each side of the machine. The machine also features a new battery disconnect switch with lock out tag capability with a lock or hasp.