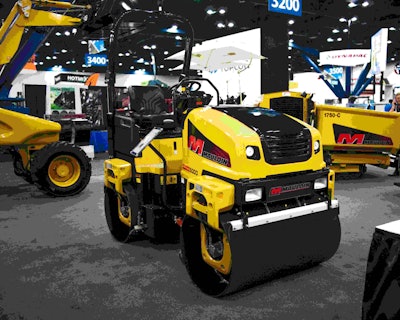 Mauldin has added two rollers to its lineup, the 3500 and 6000, that offer best-in-class operator comfort, according to the company.
The 6000 becomes Mauldin's largest compaction roller, with an operating weight of 5,700 pounds. It runs on a 24-horsepower Kubota engine and has hydrostatic drive.
It features a pressurized spray system with a 54-gallon water tank. The front and rear drums are each 47 inches wide and 26 inches in diameter. The 6000 is available with steel or combination drums.
Mauldin says it designed the 6000 for excellent visibility, durability and serviceability.
The 3500 compaction roller has a max operating weight of 2,975 pounds. It runs on a 19-horsepower Honda gas engine or a Kubota 20.3-horsepower diesel. Features on the 3500 include hydrostatic drive and a 50-gallon tank, gravity water system.
Both front and rear drums are 35 inches wide and 23 inches in diameter. Mauldin says it designed the 3500 to be reliable and have low maintenance requirements.