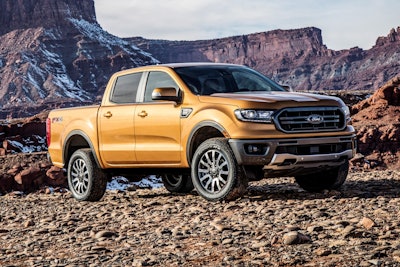 Ford Ranger is back and more capable than ever before thanks in part to some help from its highly successful global counterpart and its big brother, F-150.
While there was no talk of a Ranger Raptor at the recent unveiling in Dearborn, Michigan, the 2019 Ranger will come in an entry-level XL, mid-level XLT and high-level Lariat trim series with available chrome and sport appearance and FX off-road packages, and in SuperCab or SuperCrew cab configurations.
But perhaps the most interesting news is that Ford's latest midsize truck will come standard with a second-generation 2.3-liter EcoBoost engine paired up with Ford's segment-exclusive 10-speed transmission.
"We think when you put a 10-speed transmission SelectShift behind a 2.3 EcoBoost we're essentially going to deliver a truck that gives capability, confidence similar essentially to the bigger engines in the segment with the efficiency of the smaller engine. That's our target. That's what we're going to try and do," said Ford Chief Program Engineer Rick Bolt.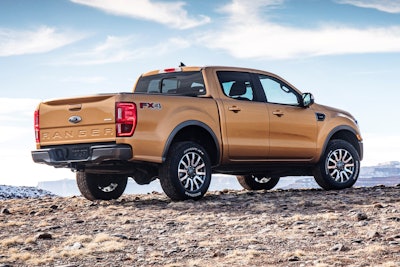 While Bolt wouldn't divulge any performance numbers yet on the powertrain, he did say that Ford is aiming for best-in-class torque with its 2.3-liter among small gassers in the midsize segment, while at the same time cashing in on the fuel efficiency of a four-cylinder engine. But don't let its small size fool you. Ford North America Product Communications Manager Mike Levine reminded reporters of skeptics who bristled at the thought of a 2.7-liter EcoBoost powering an F-150.
"People thought how could a 2.7-liter power a full-size truck?" Levine said.
Pairing that engine up with a 10-speed transmission quieted a lot of critics.
(As a reminder, John Hennessey uses Ford's high-output 3.5-liter EcoBoost to power his 6×6 Velociraptor. While it may not sound like an old fire breathing V8, the numbers on the dyno don't lie).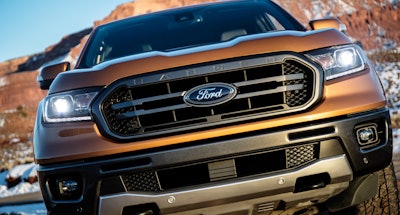 "The (10 speed) transmission shares a lot of its internal hardware with the F-150, and like the F-150, it uses advanced alloys and advanced materials to make it both lightweight and to improve shift performance," Bolt said.
The 2019 Ranger shares some other things in common with its F-Series sibling.
"You're going to see frankly a lot of stuff that you recognize. We've used a lot of features, the technology in many cases are the same components that we have on F-150 in the interior of the truck," Bolt said.
Ford Ranger sold outside of the U.S. also had a lot of influence on the design of the domestic 2019 Ranger. That truck, shown on the left, is a leading competitor among midsize trucks in various markets. Its success was one of the factors that prompted Ford to reenter the midsize market in the U.S.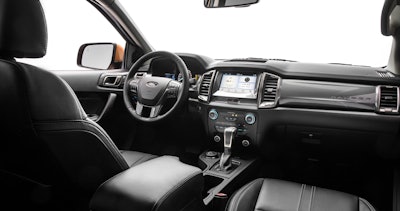 "We're now the best-selling midsize pickup in Europe, in South Africa and New Zealand and outside of North America we're the second best-selling midsize pickup globally," said Ford Truck Group Marketing Manager Todd Eckert.
Ford wouldn't get specific about how much the latest U.S. Ranger variant borrows from its global counterpart, but according to Bolt and the pictures below, the trucks look pretty similar.
"Globally the truck shares a lot of the architecture. It shares most of the dimensions, but it's adapted to North America where there are some very specific regulatory, customer expectations," Bolt said.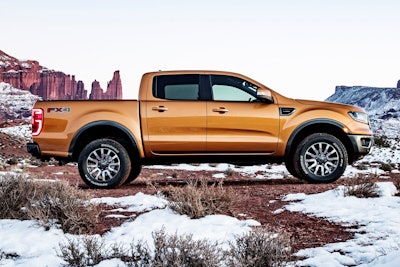 Though Ranger outside of the U.S. can be optioned with a diesel, it's not happening here with 2019 Ranger.
The truck's undergone some rigorous testing, including a challenging run at Davis Dam.
"We've tested there and the truck's done wonderful," Bolt said. "We've also tested in sub-zero ambient conditions all over the world. We've tested to huge extremes just like we do on F-Series, so that by the time we get to market we can demonstrate that this truck delivers the promise that people expect from a Ford truck."
When asked to compare the new U.S. model with the last Ranger to roll out here (model year 2011), Bolt wouldn't divulge much.
"When Ranger went out of the segment it was a small truck. The segment is really a midsize segment now, so it's a bigger truck, it has more capability," he said.
We'll let you know when Ford releases the numbers on horsepower, torque, etc.
A truck with "a different purpose"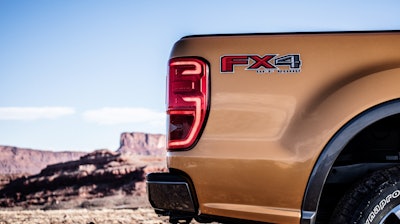 Ford designed Ranger for a new generation of midsize truck customers who head off-road to recharge.
"This really isn't necessarily an F-Series customer," Eckert said. "This is a customer who isn't using the truck as much for work as we see with F-150 and with Super Duty. It has a different purpose. This is probably a person who's more of an urban dweller, living in the city or in town. But really, they're taking their truck to work—that will be part of their commuting—but on the weekends, or when they have an opportunity during the week to steal some time away, it's really their passions that recharge them, the 'me' time that they need doing things, that take them off the grid and off-road and the Ford Ranger will be able to get them there."
Ranger prioritizes ground clearance to help climb over off-road obstacles. The FX4 Off-Road Package provides additional trail capability with off-road-tuned shocks, all-terrain tires, a frame-mounted heavy-gauge steel front bash plate, frame-mounted skid plates and FX4 badging.
To better meet the challenges of all-terrain driving, Ranger's FX4 Off-Road Package features an innovative Terrain Management System similar to the F-150 Raptor's. It includes four distinct drive modes: normal; grass, gravel and snow; mud and ruts; and sand. The system can shift on the fly to automatically change throttle responsiveness, transmission gearing and vehicle controls to tailor traction, driveability and performance to any given terrain or weather condition.
"Terrain Management System is truly a one-stop shop that allows the driver to shift modes on the fly from normal to sand to mud ruts, etc.," said Brandon Cameron, product development engineer at Ford. "It allows the driver to change on the fly and it allows the driver to use it and any transfer case setting, not just restricted to four low."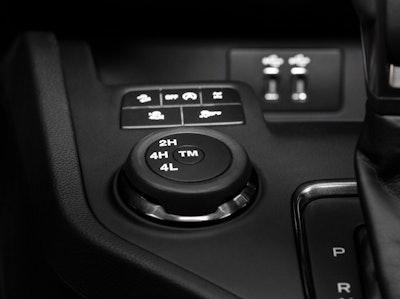 The FX4 Off-Road Package introduces Ford's all-new Trail Control technology. Like cruise control for the highway but designed for low-speed, rugged terrain, Trail Control takes over acceleration and braking – sending power and braking to each individual wheel to allow drivers to focus on steering along the course.
"Trail Control is an off-road, driver assistance technology that allows the driver to set and maintain a low vehicle speed in order for them to more easily progress on their journey," Cameron said. "Trail Control can be seen as an extension over our existing hill descent control. It's going to replace hill descent control on this vehicle. It can also be seen as an off-road cruise control to a certain extent. Our feature allows the driver to set a speed as low as one mile per hour. You can see the need to use that over rock gardens or very technical terrains or as high as 20 miles per hour. It also allows you to use the feature in any transfer case setting, not only limited to four low."
Besides using steering wheel mounted controls, Trail Control can also be set with the brake pedal. For instance, if the terrain calls for a slower speed, simply press the brake until the desired speed is reached and Trail Control will maintain that lower speed.
Ranger's new-found power is distributed through Dana Trac-Lok differentials on both 2WD and 4WD models with an available electronic-locking rear differential (standard on FX2 and FX4) for increased all- terrain traction. Ranger four-wheel-drive versions feature 2-high, 4-high and 4-low.
Technology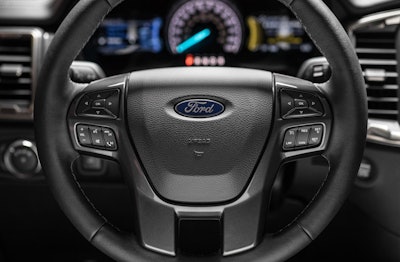 Ranger incorporates smart driver-assist, passenger convenience and connectivity technologies. Advanced driver-assist technologies include standard Automatic Emergency Braking, while Lane Keeping Assist, Lane Departure Warning, a Reverse Sensing System and class-exclusive Blind Spot Information System with trailer coverage are standard on XLT and Lariat trim levels. Additional driver-assist technologies standard on Lariat include Pre-Collision Assist with Pedestrian Detection and Adaptive Cruise Control.
Available SYNC 3 features Apple CarPlay and Android Auto compatibility, Ford+Alexa personal assistant functionality and optional navigation. An available FordPassTM Connect 4G LTE modem provides Wi-Fi access for up to 10 devices. Available AC power outlets allow for charging of laptops and USB outlets provide more options for passengers to connect. Available B&O PLAY premium audio is specially tuned for the Ranger cab to deliver a rich and engaging listening experience.
Additional features include optional LED headlamps and taillamps. Optional exterior lighting includes puddle lamps and lighting for the cargo bed, while Ford's available Smart Trailer Tow connector alerts drivers to faulty trailer connections.
"One of the big features that's coming on this truck is the Blind Spot Information System with trailer coverage," said Justin Teems, Ford's core driver assist headway features supervisor.
"So a regular blind spot information system extends a range back so far to help you identify if there's a car in that spot. The enhancement here is that with trailer coverage, we're able to allow the customer to make that spot even larger depending on the trailer size up to 33 feet. They can save that as a profile and they can save up to three different profiles."
The 2019 Ranger is expected to hit dealerships early next year.